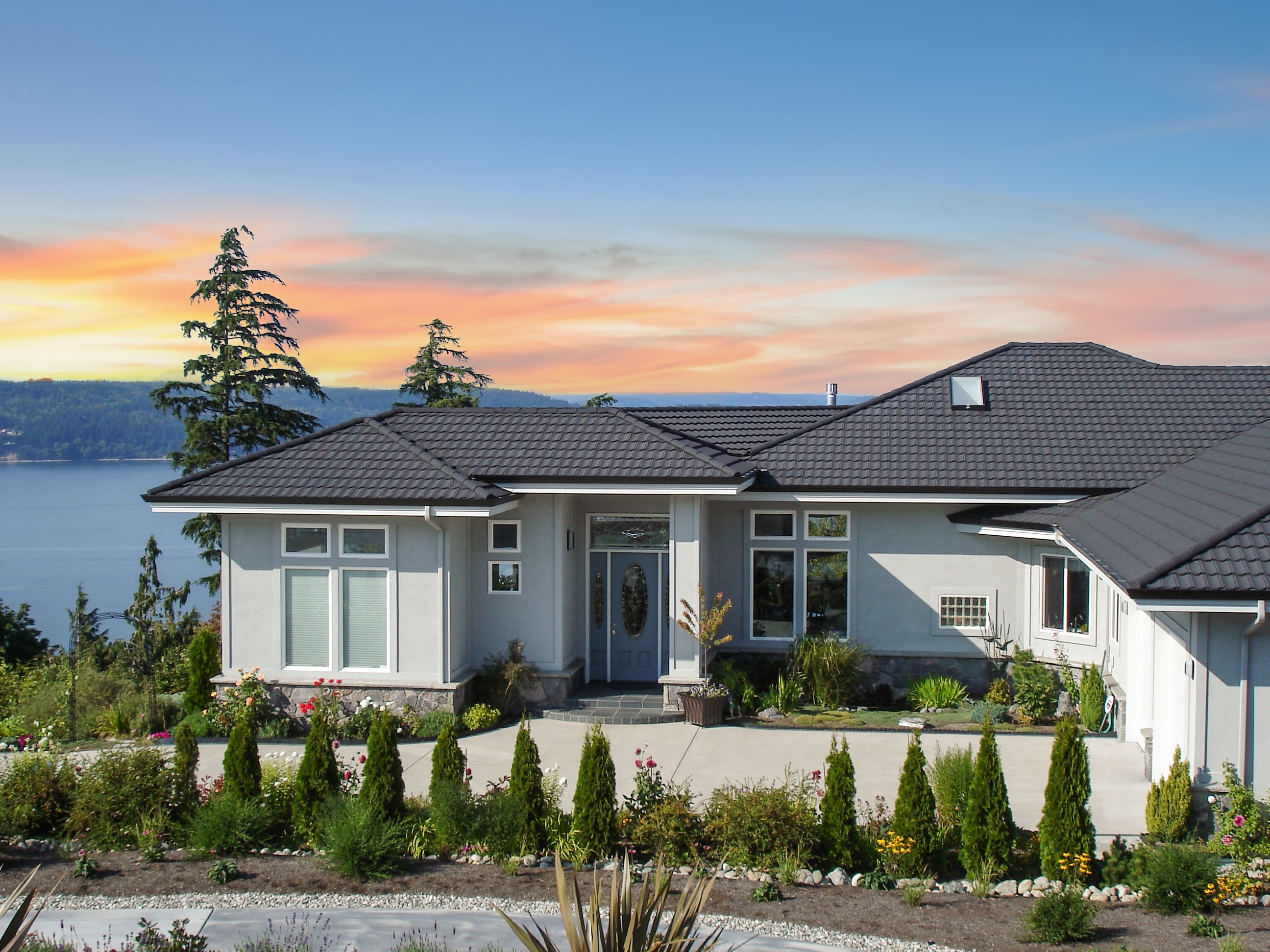 Best Roofing Material for Coastal and Beach City Homes
Elegant coastal homes face a unique set of weather and maintenance challenges, and the roof bears the brunt of the seaside weather assault as the first line of defense against the ocean elements. Many traditional architectural themes for homes in coastal regions incorporate the classic beauty of tile or shake roofs, such as the Mediterranean villa, Old World Classic, Tuscan, and Spanish styles.
While these conventional roofing materials preserve the aesthetic elements of sophisticated roof designs, they are far from the most resilient materials for withstanding the rigors of coastal weather. Constant maintenance is required to maintain the beauty and weatherproof integrity of roofing systems relying on conventional legacy materials including wood shakes, clay or slate tiles. Even those who have compromised architectural elegance and settled for slightly more durable heavy asphalt shingles will find it necessary to re-roof every decade or so.
Today's coastal homeowners are fortunate to have the option of installing DECRA Metal Roofing to elegantly protect their homes from the coastal elements. DECRA's product line includes an extensive assortment of stone-coated steel panels in a broad spectrum of textures, shapes, and colors which can replicate any conventional roofing product, all while adding shear strength which no other roofing profile can offer. DECRA has been standing against the oceanic elements for more than 60 years now on roofs from the British Virgin Islands to Hawaii, and California. DECRA metal roofs' unsurpassed lightweight strength is the solution for hurricane-prone regions with the most rigorous building codes such as Miami-Dade, Florida.
Limitations of Traditional Roofing Materials vs DECRA
While antiques may enhance the interior of the most stately coastal homes, "antique" roofing materials can't measure up to the durability and ageless beauty of DECRA metal roofs. While the discussion and impact of climate change continues, no one can dispute that coastal regions today are seeing an increase in severe weather events and extreme conditions which all take their toll on conventional roofs including:
Wind: That pleasant ocean breeze is one of the prime attractions of owning a coastal home whether for a vacation retreat or as a serene year-round oceanfront sanctuary but vulnerability to frequent high winds is the tradeoff. Many villa-style coastal homes use clay tile or wood shakes which are extremely vulnerable to wind uplift, to such an extreme that they aren't warrantied against wind damage at all. More modern composite, fiber cement, and asphalt shingle products are rated in the 70-110 mph wind resistance range, still far short of DECRA's 120 mph warranty.



Salt air: Resistance to corrosive salt air made clay tile roofs the traditional popular choice for many coastal homes in Florida and California. In the Northeast, cedar shakes were often used for the same reason. Clay tiles, however, are heavy and absorb up to 15% of their weight in moisture causing undue structural stress on the roof over time. Cedar shakes fail to retain their original beauty, fading to a dull gray after a few months of exposure to the elements. DECRA's acrylic-based stone-coating formula resists corrosion and protects the underlying steel so the roof retains the same beauty it has when installed after decades of exposure.



Heat, Rain, and Humidity: These are the roofing challenges faced by homes in tropical climates and they all take their toll on conventional roofing materials, limiting material life-cycles to 10 or 20 years. Repeated wet-dry cycles can cause expansion and contraction stresses which cause warping and cupping in shakes and shingles. In warm climates, asphalt shingles continue to emit unwanted heat to the house long after the sun goes down. Chemical algaecides may be needed in high humidity zones to prevent fungus damage to wood shakes and unsightly growth on asphalt shingle roofs. Even standing seam metal roofs which have excellent rain-shedding characteristics may be prone to corrosion if they aren't laboriously maintained with periodic protective coatings. DECRA stone-coated steel is the best roof for coastal homes in tropical climates, impervious to expansion and contraction stresses, with the highest energy efficiency ratings for heat emittance to reduce air conditioning energy loads. The innovative stone-coating provides a minimal-maintenance "one-and-done" roofing solution.



Tropical Storms and Hurricanes: DECRA has performed extensive testing to meet compliance with the most strict building codes in Florida's High-Velocity Hurricane Zone. Each product is tested at TWICE the design amount of maximum wind uplift to provide a safety factor of 100%. DECRA offers a full range of installation techniques and enhancements to increase high-velocity wind exposure up to 150 mph, with batten, counter batten, and direct-to-deck options.
The Best Roofing Material For Beach Homes
Take all of the challenging elements above and add wind-driven sand to the equation and you have the perfect formula for wearing down the conventional roofing materials on a beach home in a few short years. The durable stone-coating of all DECRA roofing products is impervious to sand, and the unmatched strength of DECRA layered steel is Class 4 impact resistant, able to resist assaults from hail and storm debris for a lifetime. DECRA roofs are UL2218 certified and are so durable that many states offer insurance discounts for DECRA roofing systems.
Energy Efficiency For Beach and Coastal Homes
Conventional roofing materials, especially common asphalt shingles, drive heat through the roof and increase HVAC loads. Solar reflectance and thermal emittance are the key characteristics of energy efficiency in roofing materials, and DECRA uses unique infrared-blocking color pigments to optimize both of these critical properties. Attic temperatures decrease by as much as 69% and homeowners report up to 20% savings in energy costs after upgrading to DECRA metal roofs.

A Word About Warranties
All DECRA products are backed by a transferrable Lifetime Limited Warranty. DECRA roofing profiles are designed to endure for a lifetime, as opposed to conventional roofing materials which are only warrantied for 10-20 years. Some manufacturers entice homeowners with impressive warranties in the 30-50 year range but it must be noted that these are easily voided at will if the manufacturer decides that installation instructions haven't been meticulously followed. Many conventional roofing warranties are mere marketing tools and shouldn't be perceived as a benchmark for estimating longevity.
Why DECRA?
While the benefits of durable metal roofing have been known for years, DECRA has bridged the gap between bland but sturdy industrial style metal roofing and sophisticated architectural roofing by introducing colorful stone-coating and durable layered steel to replicate the most elegant traditional roofing materials. The incredible strength of multi-layered steel results in the lightest weight roofing option available, often eliminating the need for costly tear-offs for remodeling and roof upgrades. DECRA products are made from 30% recycled materials, are fully recyclable, and energy-efficient, making them the perfect choice for LEED and green building projects. DECRA is a proud member of the USGBC, the United States Green Building Council.


DECRA's product quality is matched by the company's high standard for operational excellence. The U.S.-based DECRA facility in Corona, California maintains a fully stocked inventory of all DECRA products and can ship 72 hours after receiving a purchase order. For coastal homes, DECRA provides ageless beauty and longevity for a one-and-done roofing solution, unlike conventional roofs which inevitably need total replacement or ongoing maintenance every 10-20 years.


When you're ready for the best roof in the industry you're ready for DECRA so don't hesitate to check out our extensive line of DECRA stone-coated steel roofing products today.