REGISTER WARRANTY
REGISTER YOUR ROOF FOR DECRA'S LIFETIME LIMITED WARRANTY
DECRA Metal Roofs are backed by a Lifetime Limited Warranty that covers wind up to 120 miles per hour and hailstones up to 2.5 inches in diameter. Register your roof, free of charge to:
Access the DECRA Homeowner's Manual that includes instructions for cleaning and walking on a DECRA roof, answers to frequently asked questions and a copy of the warranty.
Receive lifetime priority customer support for claims and questions regarding your roof.
Once your registration is complete, we'll keep your records on file.
Note: Registration is not required for warranty coverage.
View and download DECRA's Lifetime Limited Warranty in English, French and Spanish.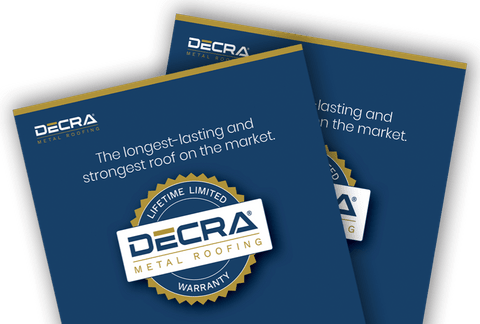 WARRANTY INFORMATION
Q: How does DECRA's Lifetime Limited Warranty compare to other metal roofing manufacturers?
A: Not all "lifetime" warranties are the same. For example, some asphalt roofing manufacturers charge for different types of warranties, and provide only basic coverage for the product (if at all). Additionally, some manufacturers prorate the length of the warranty, so in just a few short years, only a fraction of the roof is covered.
DECRA provides a Lifetime Limited Warranty for all of its products, so homeowners can have peace of mind knowing their roof comes standard with one of the most comprehensive warranties in the industry.
Q: Can homeowners transfer the warranty to a new owner?
A: Many roofing manufacturers do not allow warranty transfers when selling a home. This creates a headache for homeowners who invested in a new roof prior to selling, but can't pass on the warranty to new owners.
DECRA roofs are backed by a warranty that comes with buyer-friendly terms. This means homeowners may transfer their warranty to a subsequent property owner within 20 years of the initial installation.
Q: How do I request a warranty claim?