LIFETIME LIMITED WARRANTY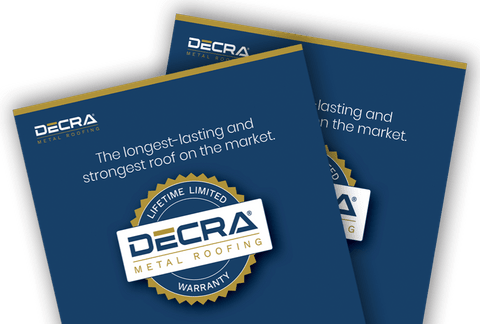 How does DECRA's Lifetime Limited Warranty compare to other metal roofing manufacturers?
Overseas imitation products can't match the quality of DECRA's strength or durability - and neither can their warranties. Other metal roofing manufacturers limit the length of the warranty, and do not permit transfers of the warranty if the home is sold.
Can I transfer my warranty if I sell my home?
Yes. Homeowners may transfer their warranty to a subsequent property owner during the first twenty (20) years after initial installation, which will then become a material-only limited
warranty for years 21-50. To transfer a warranty, please send the property address, original owner's name, new owner's name, and a copy of the original proof of purchase to the address below within 30 days from the change of property ownership:
DECRA Roofing Systems, Inc.
1230 Railroad Street
Corona, CA 92882
Is there an additional cost for DECRA's Lifetime Limited Warranty?
There is no additional cost for DECRA's Lifetime Limited Warranty. All DECRA products come standard with the industry's best Lifetime Limited Warranty.
Why should I register my warranty online?
By registering your warranty online, you'll receive the latest information on DECRA products and technologies, receive special offers, and assist homeowners who would like to view a roof in the same DECRA profile and color that you selected.
Note: Registration is not required for warranty coverage.
How do I request a warranty claim?