If you live in a hail-prone region, you'll want to ask these questions when searching for the best type of roof for hail:
What is the roof's rating for hail impact (Class 1, 2, 3 or 4)?
How is the roof rated for high winds and wind uplift?
How long does the roof last?
What type of warranty does the roof have?
Here is what you need to know.
What is the roof's rating for hail impact?
Founded in 1903, Underwriters Laboratories (UL) is a not-for-profit organization that independently tests and certifies products, including roofing materials. The UL2218 Impact Rating is considered the national standard for roof impact resistance.
The UL2218 test measures a roof's ability to withstand the impact of steel balls dropped from varying heights. Based on the results, roofs are certified as Class 1, Class 2, Class 3 or Class 4.
A Class 4 Impact Rating is the highest possible rating for a roof's ability to withstand hail penetration.
The Class 4 test simulates the impact of a 2" hailstone by dropping a 2" steel ball on the same spot twice from a distance of 20'. In order to achieve a Class 4 rating, the roofing material must not show any signs of penetration or fracture.

If you're in a hail-prone region, a roof with a Class 4 rating for hail impact is a must.
How is the roof rated for high winds?
Where there is hail, there is wind. Hail forms in the powerful wind updrafts of thunderstorms, and the stronger the winds, the larger the hailstones.
In addition to looking for a roof with a Class 4 rating for hail, homeowners should also look for a roof that meets the high-velocity hurricane zone requirements of Miami-Dade county. Why? Miami-Dade County in Florida has the strictest building codes in the nation due to the constant landfall from hurricanes. Even if you don't reside in Florida, you'll want to find a roof that can withstand hurricane-force winds.
How long does the roof last?
Durability is directly linked to how long a roof will last. If you're looking for the best roof for hail, you're also looking for the strongest type of roof, and will want to find a material that is element-resistant. Before making a purchase, consider the following:
It's important to be wary of roofing products that seem too good to be true. For instance, asphalt shingles are the cheapest roofing material on the market, however, you get what you pay for, especially when it comes to durability and longevity. Asphalt shingles need to be replaced as often as every 12 years, whereas metal roofing products last two to three times longer than traditional roofing materials such as asphalt shingles, clay tile and wood shake.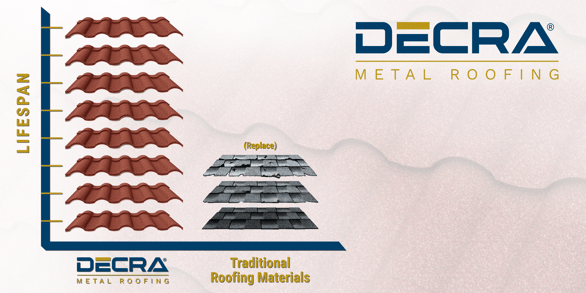 What type of warranty does the roof come with?
A warranty shows that a manufacturer is confident in the quality of their products, but it's important to note that not all warranties are created equal. Here are some things to look for in a warranty:
Comes standard with the product.
Includes clear, specific language for covering hail penetration.
Can be transferred to the new owner should you decide to sell your home.
Is issued by a manufacturer that has been in business for a substantial amount of time, after all, a warranty means nothing should the manufacturer go out of business.
You'll want to read the fine print of any warranty carefully. Use caution if the roof's manufacturer:
Doesn't provide any type of warranty.
Hasn't been in business for very long.
Charges for different types or levels of warranties.
Prorates the length of the warranty (your roof may only be warrantied at 30% value in just a few short years).
DECRA Metal Roofing for Hail
Since 1957, DECRA Metal Roofing products have withstood the elements in some of the harshest climates around the world. Our stone-coated metal roofs have the highest UL2218 Class 4 Impact rating and are warranted for hail penetration up to 2.5" in diameter.
We take testing a step further by conducting the NBS Series 23 Hail Resistance of Roofing Materials test with ice ball compressed air guns. As stated by Terralab Engineers International: "DECRA products withstood hailstones up to 3" in diameter without damage. The products also withstood without damage by impact from 4" hailstones. The 4" hailstones are not part of the NBS Series 23 and were shot for client information purposes only."
DECRA metal roofs meet the high-velocity hurricane zone requirements of Miami-Dade county and are warrantied for winds up to 120 mph and lab tested at twice that velocity.
In addition to providing superior protection from hail and high winds, DECRA metal roofs are weather-resistant and known for their durability, longevity and other benefits, including:
Ready to see and feel the DECRA difference? Order a complimentary sample today.