Interest in both stone-coated metal roofing and solar panels is at an all-time high. In fact, homeowner demand exceeds the number of qualified roofing contractors in many areas.
The surge in demand is due to the fact that stone-coated metal roofs are one of the most energy-efficient roofing materials on the market. Adding solar panels to a stone-coated metal roof skyrockets energy efficiency and comes with the added benefit of lucrative incentives and tax credits.
As mentioned in A Buyers Guide to the 26% Federal Solar Tax Credit, "The best time to go solar is now because the 26% ITC will decrease to 22% in 2023 before becoming unavailable for residential solar systems installed in 2024 and beyond."
While the federal investment tax credit (ITC) of 26% for residential solar power systems has been extended through 2023, it isn't the only incentive for solar installations. Many states offer solar tax incentives or rebates that can be used in addition to the federal tax credit. These tax credits can provide an additional $1,000 to $6,000 in savings.
With that kind of financial motivation for homeowners, roofing professionals are well-positioned to capitalize on the demand for both metal roofing and solar panels.
The best part? Getting started is easy with QuickBOLT solar mounts and DECRA Metal Roofing.

How to Install QuickBOLT Mounts on a DECRA Metal Roof
QuickBOLT stone-coated steel roof mounts are designed specifically for installing solar arrays on stone-coated metal roofing products. Easy-to-install on either batten or direct-to-deck profiles, QuickBOLT mounts don't require any special materials, tools or extra hardware to prepare the roof for the solar installation.
Here is the simple procedure for installing QuickBOLT mounts on DECRA stone-coated steel roofs.
1. Remove the DECRA stone-coated steel panel from the area in which you will be installing the QuickBOLT mount.
2. Locate and mark the rafters with chalk/crayon using a stud finder or your favorite method. QuickBOLT mounts are not deck-mounted and must be fastened to the rafters. The span between each mount depends on your specific engineering designs but typical spans fall between 4-8 feet in length.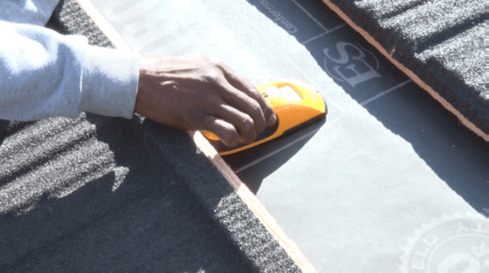 3. Place the mount against the batten. If there is no batten as with direct-to-deck roofing profiles, align the elevated portion of the mount over the ridge of the panel (the thickest edge). Pre-drill the mounting holes with a 3/16" drill bit to ensure that the mounting screws drive smoothly. Note: QuickBOLT mounting screws are made with Type 17 tips that cut as you drive, reducing the chance of splitting the rafter.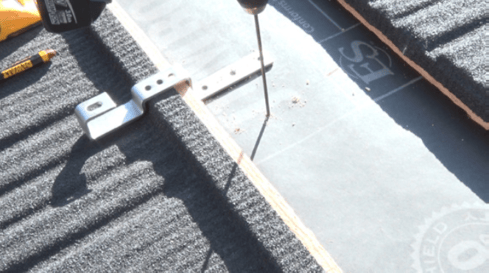 4. After pre-drilling, shoot your choice of sealant into the holes. Any roofing sealant will work. This is an extra precaution against water intrusion since DECRA's interlocking panels provide protection from leaks.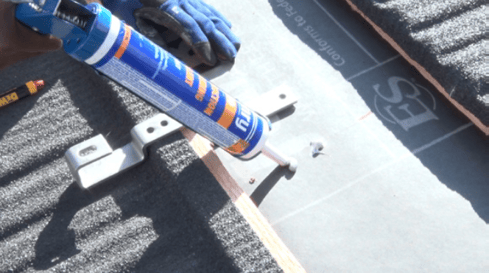 5. Place the mount back into position by lining it up with the predrilled holes and drive the mounting screws through the mount. QuickBOLT mounts also have holes for driving screws into the batten for extra strength, but all strength testing was accomplished with rafter mounting only. At this stage, you can also adjust the height on any of the adjustable mounts.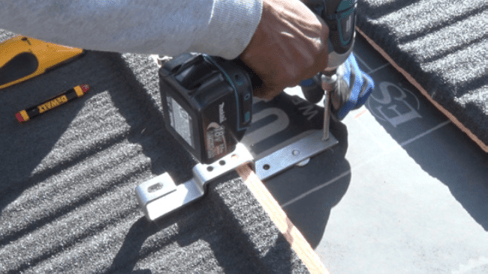 6. Replace the DECRA panel by moving it back into position and interlocking it with the adjacent panels. You are now ready to secure your solar rails to the roof mounts.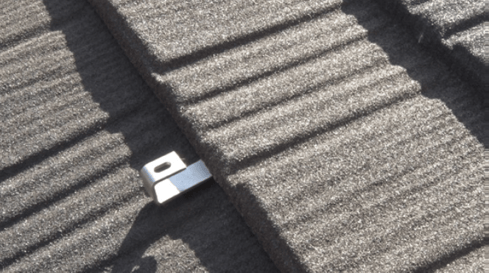 This video will walk you through the proper installation of QuickBOLT's Stone Coated Steel Roof Mounts and additional product information is listed below.
QuickBOLT stone-coated steel roof mounts were designed in collaboration with SCS roof manufacturers and come in a variety of fixed and adjustable styles, with options for side or bottom mounting rails.
Stone Coated Steel Roof Hook for Bottom Mount Rails

Stone Coated Steel Roof Hook for Bottom Mount Rails (Adjustable)

Stone Coated Steel Roof Hook for Side Mount Rails

Stone Coated Steel Roof Hook for Side Mount Rails (Adjustable)
QuickBOLT and DECRA Metal Roofing: A Winning Combination for Contractors
QuickBOLT, a division of Quickscrews International Corporation, has provided a wide range of innovative solar mounts for residential roofs since 2009. As one of the top suppliers to solar installers and distributors throughout the USA, QuickBOLT solar mounts have earned a reputation for industry-leading quality and performance. Products are stocked in Livermore, CA, and Rock Hill, SC, allowing QuickBOLT to meet the needs of any company or individual nationwide.
Both QuickBOLT and DECRA Metal Roofing share a commitment to outstanding product quality and operational excellence.
Learn more about QuickBOLT's wide range of solar mounting products.