While metal roofs have been known as one of the most durable and longest-lasting roofing materials for more than a century, it was overlooked by the residential sector due to its industrial appearance and inability to meet the design requirements of residential properties.
This all changed when stone-coated metal roofing was introduced in 1957.
With stone-coated metal roofing, the natural stone granules transform industrial-strength sheet metal into an architecturally-diverse roofing solution that can suit any style of home. The vivid colors and dynamic textures provided by the stone coating process effortlessly achieve the same aesthetics of traditional residential roofing materials, such as asphalt shingles, wood shake and clay tiles.
This is a game-changer for high-end home builders looking to elevate their projects' visual appeal without sacrificing performance.
But the benefits of metal roofing don't stop there.
Let's explore the top 3 reasons why high-end home builders benefit front the lasting luxury of metal roofing, including:
Energy-Efficient and Sustainable Construction for Home Builders
Demand for energy-efficient home building has drastically risen in the past decade. Some states are even mandating energy-efficient home building. For example, government programs like California's Title 24 and the California Solar Mandate require environmentally-friendly and energy-efficient standards for residential construction.
Because of increased demand and regulation for energy-efficient home building, metal roofs have surged in popularity amongst homeowners and high-end homebuilders.
Metal roofs are widely recognized as one of the most energy-saving roofing materials available, as they efficiently deflect heat away from structures.That's because metal roofs have an extraordinary thermal emittance, which can decrease cooling costs by as much as 25%.
In fact, a 2019 study conducted by R&D Engineering compared the energy efficiency of DECRA Metal Roofs to that of standard 3-tab asphalt shingle roofs. The study discovered that DECRA Metal Roofs boosted energy efficiency by up to 218%.
While any type of metal roofing offers superior energy performance, a DECRA stone-coated metal roof takes energy conservation to the next level.
DECRA's stone-coated granules contain infrared-blocking color pigments that effectively obstruct infrared radiation from the sun, which is responsible for heat accumulation. These infrared-blocking pigments significantly increase the solar reflectance of the metal roof compared to other metal roofing products.
Enhanced Curb Appeal to Suit Any Style of Home
A stone-coated metal roof effortlessly replicates the aesthetics of less durable roofing materials, such as asphalt shingles, wood shake and clay tiles.
Take clay tile roofing, for example. It's almost impossible to imagine a Spanish-style home without a traditional clay tile roof. But clay tiles are fragile, high-maintenance and heavy.
Stone-coated metal roofing offers exceptional durability and longevity without compromising on style. From the elegant curves of Spanish barrel tile to the rustic charm of wood shake, stone-coated metal roofing can suit the architectural style of any home.
Here is just a small selection of roofing design possibilities that stone-coated metal roofing can provide.
DECRA Villa Tile perfectly complements Spanish-themed homes with barrel-style tile while DECRA Tile adds classic elegance with the look of scalloped Mediterranean tile.
DECRA Shingle XD offers the depth and dimension of architectural asphalt shingles.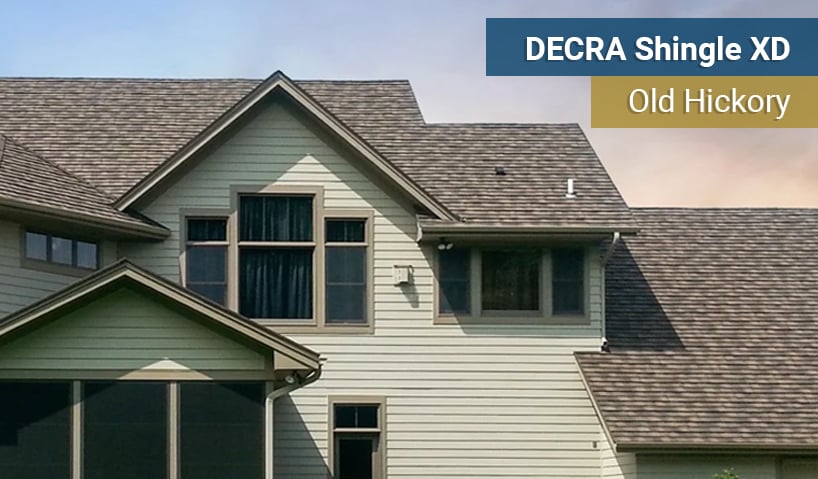 DECRA Shake XD and DECRA Shake achieve the rustic charm of wood and genuine cedar shake.

Be sure to view our stone-coated metal roofing gallery to see how DECRA elevates the curb appeal of any home.
Premium Market Positioning and Upselling Opportunities
Building homes with metal roofing helps establish a positive reputation and trust among high-end homeowners, and can set your homes apart from the competition by:
Reinforcing your commitment to high-quality building materials.
Building trust by showing home buyers that you're invested in their long-term satisfaction by offering roofing solutions that last up to 70 years, significantly longer than alternatives like asphalt shingles or wood shake.
Differentiating your homes from competitors by offering an innovative, versatile roofing material that offers top-tier performance and style.
Metal roofing also creates upselling opportunities for home buyers who demand the best.
DECRA Metal Roofing: The High-End Roof for High-End Home Builders
High-end home builders in search of a durable, high-performance and visually captivating roofing solution need to look no further.
As the original manufacturer of stone-coated metal roofing, DECRA Metal Roofing has set the gold standard for roofing since 1957. Manufactured at our state-of-the-art facility in California, our metal roofing systems have withstood the test of time and protected homes from Canada to Hawaii, and everything in between.
See and feel the DECRA difference by ordering a complimentary sample today.