Stone-coated metal roofing provides the durability of industrial metal roofing with the aesthetic appeal of traditional roofing materials. If you're looking for a roof that can withstand nearly anything Mother Nature has to offer without sacrificing on style, then you're looking for a stone-coated metal roof.
In this blog, we'll cover the following:
Overview of metal roofing and its benefits.
How stone-coated metal roofing differs from industrial metal roofing.
The stone-coated metal roofing manufacturing process.

What is Metal Roofing?
Metal roofing is a broad term for a wide variety of roofing products that are composed of some type of metal.
The most common types of metal roofing products are:
Aluminum Roofing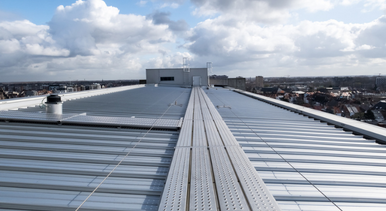 Copper Roofing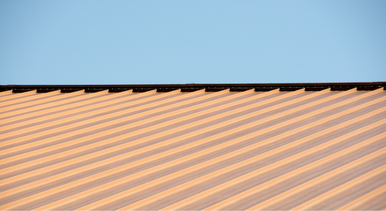 Corrugated Metal Roof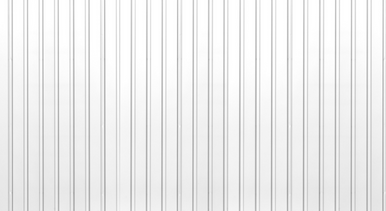 Standing Seam Metal Roof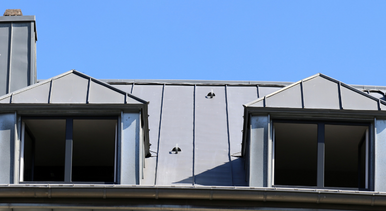 Stone-Coated Steel Metal Roof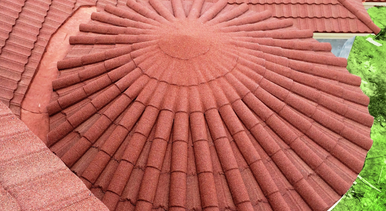 There are many advantages to metal roofing due to its longer life span, sturdiness, low maintenance and high ROI, such as:
The high ROI on metal roofing is due to the fact that it is one of the most durable roofing products on the market and boasts impressive claims, including:
>>>Related Resource: Read 10 Things You Need to Know About Metal Roofing.
Metal roofing has dominated the industrial sector for more than a century. Warehouses, factories and other industrial buildings have long benefited from the durability that only metal roofing can provide.
But metal roofing materials like aluminum, copper, corrugated, and standing seam roofs typically lack the aesthetics and design versatility required for most residential buildings. This is especially the case if the design calls for complex or classical architectural themes that feature cupolas, gables, towers, multiple valleys, and elaborate facades; large panel metal roofs are simply not an option.
Stone-coated metal roofing bridges the gap between industrial durability and design versatility, giving homeowners the benefits of industrial metal roofing without sacrificing on style. Here's how.
How is Stone-Coated Metal Roofing Different from Metal Roofing?
Stone-coated metal roofing is made from steel sheets, and then coated with stone granules.
The steel sheets make the perfect substrate since they can easily be "stamped" into a wide variety of shapes. The stone-coating process allows for a wide variety of vivid colors and textures that can replicate the look of traditional roofing materials like asphalt shingles, clay tiles and wood shakes. This is what gives stone-coated metal roofing products, such as DECRA Metal Roofing, the design versatility to suit any style.
For example, the aesthetic versatility of DECRA stone-coated metal roofing products can replicate the cultural and historical integrity of traditional roofing designs, including:
DECRA stone-coated metal roofing products are ideal for upscale designs as well, including:
Stone-coated metal roofing is even ideal for rustic camping pods, such as those manufactured by Algonquin Pod Company.
It's important to note that the stone granules in stone-coated metal roofing products provide much more than design versatility. In addition to the long list of benefits that metal roofing provides, stone-coated metal roofing comes with its own additional benefits as well, including:
Enhanced Energy Efficiency: Infrared pigments embedded in the stone-coatings increase the natural solar reflectance (aka energy efficiency) of a metal roof. Learn how in this recent U.S. Department of Energy Study that verifies the thermal performance of DECRA's stone-coated metal roofing products.
Noise Reduction: DECRA stone-coated steel roofing profiles don't require any extra soundproofing materials and are peacefully quiet in the rain thanks to the sound-absorbing cushion of granular stone coating. Learn more about how quiet DECRA roofs are in our blog, Are Metal Roofs Noisy in the Rain?
Let's dive deeper into what exactly the stone granules in stone-coated metal roofing are made of.
The Stone-Coated Metal Roofing Manufacturing Process
The stones in DECRA's stone-coated metal roofing products are called roofing granules. The granules are manufactured from natural stone which was mined at a quarry, then crushed and screened to various sizes. The granules are manufactured in such a way that when applied to and embedded in our DECRA acrylic base coat, the particles fit together to provide the maximum coverage for our roof panel surface.
Several characteristics are critical when analyzing and selecting an appropriate and suitable stone, including:
Hardness
Opacity to solar ultraviolet light
Chemical and physical inertness to provide resistance to acid rain and leaching
Durability to freeze/thaw and wet/dry cycling
Minimal oxidation and rusting (iron content)
Low porosity
Suitability for coating
Particle shape
The granules achieve their vivid colors through a process where the stone particles are coated with a combination of pigments similar to paint. The pigment slurry mixture, once applied to the stone, is baked on at high temperatures causing the pigment mixture to coat the stone in a ceramic process. Pigment selection will determine the final appearance and color of the roofing granule.
Multiple color readings, using a spectrophotometer, are performed at different intervals during the manufacturing process.
Color fixation tests are also conducted to make certain that the pigmentation has adhered properly to the stone granule – ensuring that the color will remain stable over time. Given the intense solar UV exposure on a roof system, roofing granules must prove to be durable. DECRA utilizes state-of-the-art computerized roofing granule blending and application machinery to ensure a quality stone coat manufacturing process.
Why DECRA Stone-Coated Metal Roofing?
As the original stone-coated metal roofing manufacturer since 1957, DECRA products have a long-established reputation for quality. Manufactured at our facility in Corona, California, all products are tested above and beyond the requirements to ensure the quality that DECRA is known for is present in each and every stone-coated metal roofing panel we produce.
Ready to see and feel the quality of our products? Click here to order a free sample.