Back in 1978, Charles Lortie, a master roofer and building owner, took on a major task: transforming a dilapidated Ottawa apartment building into a luxurious condo complex.
Though the apartment building was rundown, Mr. Lortie knew it was a diamond in the rough. The building had elegant design features of Mediterranean revival architecture, including a steep-sloped mansard roof, that Mr. Lortie wanted to both preserve and enhance.
The apartment building's current roof was a deteriorated asphalt shingle roof in desperate need of replacement. Mr. Lortie, a roofing expert himself, wanted to enhance the building with a more durable roof that would withstand the Ottawa weather and align more with the upscale Mediterranean revival building he envisioned.
He recognized that while an authentic clay tile roof would achieve the desired aesthetic, clay tiles were too fragile and required continual maintenance. Additionally, the ongoing repairs that come with clay tile roofs would be expensive and disruptive to the upscale condo residents below.
Mr. Lortie needed a roofing material that was more durable and longer lasting than asphalt shingles or clay tiles. He also required a roof that would eliminate future maintenance and re-roofing costs without compromising on style, color, or aesthetics.
His search for the perfect roofing material for this unique project led him to DECRA Metal Roofing.
Keep reading to learn how DECRA metal tile roofing was able to meet all the criteria for:
Durability: A Roof Strong Enough to Withstand Ottawa's Harsh Climate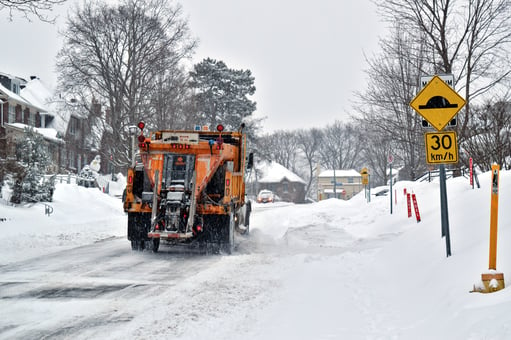 Ottawa experiences a semi-continental climate characterized by long, humid summers and freezing, snowy winters.
Throughout the year, temperatures in Ottawa range from 6°F to 80°F and can drop as low as -13°F or peak as high as 88°F. Unlike many Ontario cities, Ottawa doesn't touch Lake Ontario, resulting in warmer summers and harsher winters than neighboring towns.
Winters in Ottawa are notably severe, with over 120 days of snow cover exceeding 1 cm annually, in contrast to Toronto's 65 days. Given Ottawa's harsh climate, Mr. Lortie needed a roof that was built to last and could withstand:
High Winds: The combination of heavy snowfall and high winds can put substantial stress on the roof. Additionally, freeze-thaw cycles can lead to ice buildup on roofs, which, when combined with high winds and wind uplift, can cause severe damage to a roof.
Snow and Ice: When water freezes, it expands, and a porous roofing material will absorb water. When the water freezes in a porous roof, the expansion puts pressure on the roofing material and can cause the roofing material to crack, split, and deteriorate.
Heavy Snow Loads: Snow on a roof can add up to 20 pounds of weight per cubic foot, so a strong, but lightweight roof was required.
Heat and UV Exposure: Ottawa's hot and humid summers required a roof that could reflect heat away from the building and resist degradation after prolonged exposure to UV rays.
Metal roofing was one of the few types of roofing materials that could meet these criteria.
Known for its industrial strength and longevity, a metal roof could easily endure for decades in Ottawa. However, architectural style was just as important as durability for this project, and an industrial metal roofing material wouldn't achieve the look Mr. Lortie envisioned.
Being familiar with modern roofing products, Mr. Lortie knew that stone-coated metal roofing would provide industrial strength without industrial aesthetics.
Design: Roofing That Aligns with Mediterranean Revival Architecture
Stone-coated metal roofing is manufactured from high-grade steel sheets. Then, the steel sheets are coated with natural stone granules. By adding stone granules to steel, industrial-looking metal is transformed into a wide variety of colors and textures that can replicate the look of traditional roofing materials and suit any style of architecture.
DECRA Tile features the same wavy, scalloped style S-shape as traditional clay tile roofing, providing the unique rippled texture required for classic roof elements seen in Mediterranean revival architecture.

Reliability: A Low-Maintenance and Long-Lasting Roofing Material
Mr. Lortie chose DECRA Tile for his building upgrade due to its strength, style, and maintenance-free longevity. As one of the most durable and longest-lasting roofing materials on the market, DECRA stone-coated metal roofing has elegantly endured on the upscale condo complex for nearly 50 years.
Had Mr. Lortie chosen asphalt shingles for his project, the building would have required as many as four roof replacements in the same time span.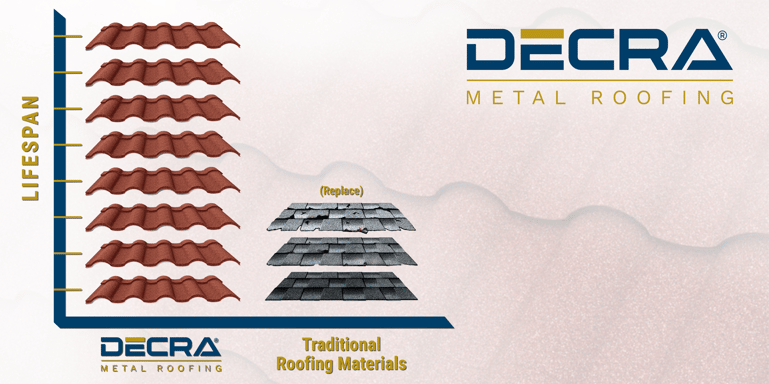 The DECRA Tile roof has withstood the test of time and Mr. Lortie considers this 3,000-square-foot condo roofing project a complete success. "There were no complications during the installation or since," said Mr. Lortie.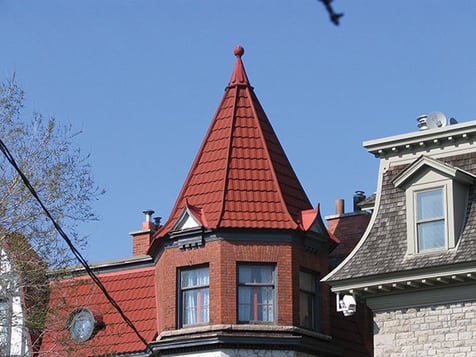 After more than four decades, this project demonstrates the many benefits of using DECRA Metal Roofing products. "I have stuck with DECRA because they were the first to manufacture stone-coated steel roofing. They are known for their reliability and that is why I have been a loyal contractor ever since," said Mr. Lortie.
"While the building has gone through many internal changes, the roof has maintained the same look as it did on day one of installation. The DECRA tiles have not faded or degraded, and continue to endure Canada's harsh elements. The garnet-hued tiles covering the building's turrets and mansard still contribute to the classic architectural aesthetics of the building, more than four decades later."
If you're looking for a roof that will resist nearly anything Mother Nature has to offer without compromising on style, then you're looking for a DECRA stone-coated metal roof.
Ready to experience the DECRA difference? Request a complimentary sample today.

Editor's Note: This blog was originally published in October 2020 and has been updated with relevant information.