Clay tile roofs have a long and varied history, dating back to 10,000 B.C. Clay tile roofs arrived in the U.S. through European settlers in the 1600s and surged in popularity in the mid-1800s, as Mediterranean and Spanish-style architecture was in favor.
Clay tile was once the most popular roofing material of its time, far superior to wood for fire resistance and durability, with aesthetics that flat asphalt shingles or woodcut shakes simply couldn't match.
But there is a high price to be paid with clay tile roofing, as it is one of most fragile, high-maintenance and heaviest roofing materials on the market.
Today, discerning homeowners have moved away from high-maintenance clay tile to metal roofing. Metal roofing achieves the same aesthetics as clay tile, but offers homeowners the high-performance strength that only metal can provide.
If you're looking for the classic style of clay tile but also want a stronger, longer-lasting and low-maintenance roof, then you're looking for a metal roof.
Here's what homeowners need to know to find the perfect roof for their home, including:
What is Clay Tile Roofing?
Clay tile roofs are made from natural materials like molded clay or terracotta, then baked at high temperatures.
The two most common styles of clay roofs are:
Mediterranean scalloped-style clay tile roofs have a wavy S-shape and create a continuous curve along the roof, an essential element for Mediterranean architecture.
Spanish barrel-style clay tile roofs are ideal for the prominent, complex, round, or curved roof elements of Spanish Colonial, Italian Villa and Mission Revival architecture.

While clay tile is beautiful and an architectural must for Spanish and Mediterranean-themed homes, it has substantial shortcomings when it comes to performance.
One of the most significant challenges of clay tile roofing is that it is extremely delicate and high maintenance. Clay tiles are prone to cracking and breaking over time, especially during harsh weather conditions, such as hail and high winds. Repairing these tiles can be a tedious, expensive and time-consuming process. Clay tiles are so fragile that just walking on a clay tile roof for routine maintenance can cause damage.
Clay tile roofing is also one of the heaviest roofing materials on the market. When it comes to roofing, heavier is not better. A lightweight roofing material is ideal since some homes are not built to withstand a top-heavy roof, and the weight can put pressure on the home over time and potentially result in structural damage.
What is Metal Roofing?
Metal roofing has been used in the industrial sector for centuries due to its durability, longevity and energy efficiency. However, it wasn't widely used in residential settings because homeowners perceived it as "too industrial looking."
This changed when stone-coated metal roofing was introduced in 1957.
While all types of metal roofing provide industrial-strength durability, some metal roofing materials–such as aluminum, copper, corrugated, and standing seam–have limited aesthetics and design versatility. This is particularly true for complex or classical architectural themes with cupolas, gables, towers, multiple valleys and elaborate facades.
When stone-coated metal roofing entered the market, it offered homeowners the high-performance strength of metal roofing without sacrificing on style.
Stone-coated metal roofs are made from steel sheets that are then coated with stone granules, providing flexibility in shape and a range of colors and textures to replicate the look of traditional materials like asphalt shingles, clay tiles and wood shakes.
Can you tell the difference?
One of the roofs below is a stone-coated metal roof and the other is a traditional clay tile roof.

Answer: The roof on the left is a metal roof. The roof on the right is a clay tile roof.
In addition to being one of the strongest and longest-lasting roofs on the market, metal roofing is also one of the most energy-efficient and environmentally-friendly roofing options.
Which is Better: Clay Tile or Metal Roofing?
One of the most significant advantages of metal roofing over clay tile roofing is its durability and longevity.
Metal roofs are engineered to withstand harsh weather conditions, such as high winds and hail, and many metal roofs come with a Lifetime Limited Warranty for winds over 120mph and hail penetration up to 2.5" in diameter.
While clay tile adds a distinct charm and aesthetic, metal roofing is the superior choice in terms of performance, strength, durability, longevity and more.
Metal roofing also comes out on top when it comes to:
Maintenance and Repair Costs: A clay tile roof requires regular cleaning, inspections and repairs. Metal roofing is little-to-no maintenance. An annual cleaning to remove dirt or debris will do.
Weight and Structural Requirements: Clay tile roofing is heavy and requires a strong support structure to bear its weight, which can drive up installation costs. A top-heavy roof is not ideal in regions prone to earthquakes, high winds or heavy snow. In contrast, metal roofing is one of the lightest roofing materials on the market.
With stone-coated metal roofing, homeowners don't have to choose between strength or style since stone-coated metal roofing will effortlessly replicate the look and charm of clay tile.
Request a Complimentary Sample of DECRA's Metal Tile Roofing
DECRA Metal Roofing products are designed to bridge the gap between industrial durability and architectural beauty, without the compromises in performance that come with clay tile.
Whether you're looking for barrel-style Spanish tile or the classic S-shape of Mediterranean scalloped tile, DECRA Metal Roofing's line of metal tile roofing provides homeowners with a plethora of styles and colors to choose from.
Elegant Old-World designs frequently rely on prominent, complex, round roof elements such as cupolas and towers. The semi-cylindrical barrel shape of DECRA Villa Tile perfectly mimics the traditional Spanish and Roman barrel styles to accommodate the elegant curves of Italian Villas, Spanish Colonial themes and Mission Revival traditions.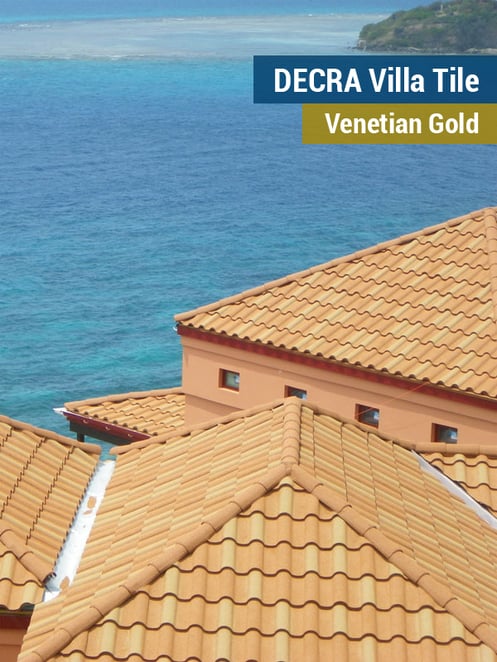 Scallop style tiles have the wavy S-shape which provides a distinctive rippled or scaled texture to complement classic roof elements so prevalent in Mediterranean Villa styles. DECRA Tile replicates the distinctive style and texture of scalloped clay tiles.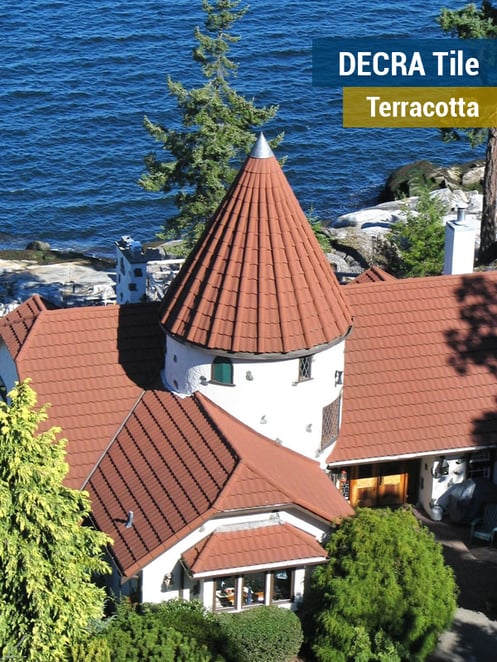 Ready to see and feel the DECRA difference? Request a complimentary sample today.

Editor's Note: This blog was originally published in June 2020, but has been updated with new information.