High winds are frequently accompanied by other climate conditions, such as thunderstorms, wind-driven rain and hailstones, so it's important to look for a roof that can withstand more than just high winds.
Depending on the wind events that affect your region, here are some important factors to consider when researching what roofs are best for high winds.
Hurricanes
Homes in hurricane-prone areas are often subject to the most rigorous building codes in the county, so you'll want to first find a roofing material that is approved for high-velocity hurricane zones (HVHZ).
Look for: Roofing materials that are approved for Brower and Dade county (two counties with the toughest building codes in the nation).
Tornados
Severe thunderstorms are a launching pad for tornadoes, not to mention the destructive hail and damaging winds that accompany these storms. You'll want a roof that can withstand not just high winds, but also impact from hail and storm debris.
Look for: Roofs with a Class 4 Impact Rating for Hail (this is the highest possible rating).
Wind-Driven Rain
Wind-driven rain is water that enters a covered property due to the wind. No matter what type of winds your region experiences, you'll want a roof that prevents rain from penetrating the underlying deck.
Look for: Roofing products with well-documented testing for wind-driven rain, such as the TAS-100.
Wind Uplift
Roof damage caused by wind occurs when the air pressure below the roofing assembly is greater than the air pressure above the building's roof. As wind flows over the building, the pressure directly above the roof surface decreases. At the same time, internal air pressure increases due to air infiltration through openings, cracks, etc. The result is a net upward force on the roofing system. This force is referred to as wind uplift.
Look for: Roofing products that have a high wind uplift rating. This is a critical safety metric for building and testing roof systems for superior wind performance.
Warranty
Before deciding on a roof, be sure to thoroughly inspect the manufacturer's warranty. Not all "lifetime" warranties are the same. For example, some manufacturers charge for different levels of coverage while others provide only basic coverage for the product (if at all). Additionally, some warranties are prorated, so in just a few short years, only a fraction of the roof is covered.
Look for: A warranty that clearly states the manufacturer's policy on high winds.
Shortcomings of Traditional Roofing Materials for High Winds
As mentioned earlier, it's important to look for a roof that can withstand more than just high winds. This can present a bit of a challenge since not every roofing material is engineered to withstand wind, hail and wind-driven rain.
Traditional roofing materials like asphalt, tile and wood are prone to wind uplift which can also leave the roof deck susceptible to damage from wind-driven rain. In hot weather, asphalt roofs are prone to cupping and curling around the shingles. When high winds blow through, the warped shingles are easily blown off the roof.
Tile and wood roofs don't fare much better. Wood shakes can split or loosen around fasteners, making them extremely prone to wind uplift. Easily fractured clay tile roofs are prone to wind uplift as well, so much so that only a few manufacturers provide any type of warranty coverage for wind.
When it comes to hail or storm debris, traditional roofing materials have shortcomings that typically rule them out as a viable option for wind-prone regions. Tile roofs can be damaged by just walking on them, so you can only imagine the damage that hail or storm debris can cause. Wood roofs fare better, but as a wood roof ages, it becomes brittle and can split, making the roof extremely susceptible to hail damage. Similar to wood, asphalt shingles initially fare well against hail, but shingles wear out quickly and their seal integrity can be compromised upon impact, leading to leaks.
There is one roofing material that can withstand wind, hail, wind-driven rain and nearly anything Mother Nature has to throw at it: metal roofing.
Advantages of Metal Roofing for High Winds
When it comes to strength and durability, metal roofing is one of the best roofs for high winds on the market, thanks to:
Metal roofing comes with a long list of other benefits, including:
>>>Related Resource: Read 10 things you need to know about metal roofing.
It's important to note that not all metal roofing products are the same. While almost every metal roof will provide industrial-strength protection from high winds, many come with an industrial look that lacks the aesthetics required for most residential buildings.
Stone-coated metal roofing provides homeowners with all of the benefits of metal roofing without sacrificing on style.
Stone-Coated Metal Roofing for High Winds
Stone-coated metal roofs, like DECRA Metal Roofing, are made from sheets of steel, then coated with stone granules.
Steel is the ideal substrate for a roof because of its durability and the fact that it can easily be "stamped" into a variety of shapes and textures. The "stamped" steel sheets combined with the application of stone granules result in a wide variety of vivid colors, styles and textures that suit any style of home.
To illustrate the strength and style that stone-coated metal roofing can provide, take a look at the traditional thatched roofing on the Polynesian Cultural Center in Laie, Oahu, Hawaii.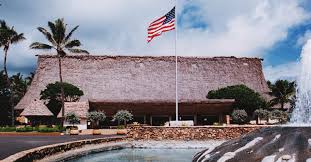 High winds and heavy rains had taken a toll on the Cultural Center's original thatched roof. When it was time for a new roof, the Cultural Center searched for a roof that could provide protection from the wind and rain as well as maintain the cultural and historical integrity of the property.
DECRA Shake fit the bill perfectly.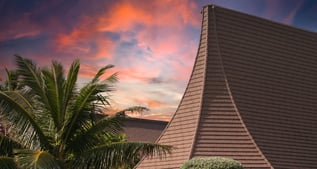 The building owners liked the wood shake pattern stamped on the steel because it was closest in design to the original thatched roof. The stone granules that protect the steel panel also provided texture, so the roof did not appear flat, further emulating the original thatch, and maintaining the cultural and historical integrity of the Center.
>>>Related Resource: Learn more about stone-coated metal roofing.
DECRA Metal Roofing for High Winds
As the original stone-coated metal roofing manufacturer since 1957, DECRA Metal Roofing products have a long-established reputation for quality. Manufactured at our facility in Corona, California, all products are tested above and beyond the requirements to ensure the quality that DECRA is known for is present in each and every stone-coated metal roofing panel we produce. We're so confident in the quality, durability and longevity of our products that we back them up with a Lifetime Limited Warranty that covers 120mph winds and hail penetration up to 2.5" in diameter.
Ready to see and feel the DECRA difference? Click here to order a free sample.