Metal roofing is one of the most durable and longest-lasting roofing materials on the market, but its benefits don't stop there.
From energy efficiency to curb appeal to insurance discounts, the strength and style of a new metal roof can increase home value by up to 6%.
Keep reading to learn three reasons why a new metal roof can increase home value, including the:
The Long-Term Value of Metal Roofing
Cheaper is not always better, especially when it comes to roofing. While you may find materials for less, they offer limited returns for your investment.
Longevity: Metal roofs have a lifespan that is two to three times longer than traditional roofing materials such as asphalt shingles, clay or concrete tiles, and wood shake.
Asphalt: 12 - 20 years
Clay or Concrete Tile: 50 years
Metal: 70 years
Wood: 15 - 20 years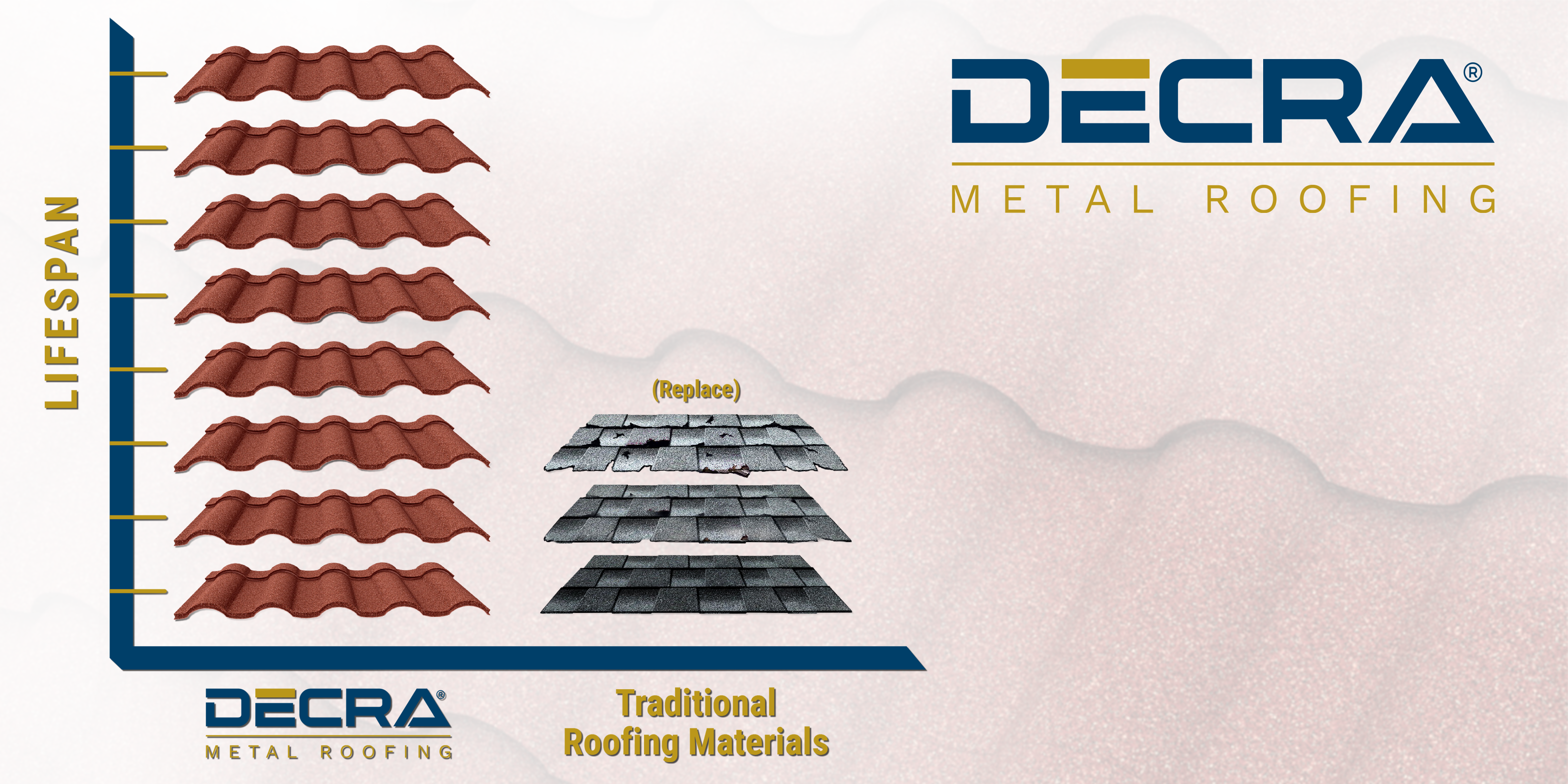 Source: Statefarm and The Spruce
Asphalt shingles, for instance, need to be replaced as often as every 12 years, even sooner in harsh climates. The industrial strength of metal roofing eliminates the need to replace your roof every decade or so, which is one of the many reasons why homeowners upgrade to metal roofing before selling.
The long-term value of a DECRA metal roof is accompanied by immediate benefits that can entice buyers to pay a higher price for your home, including:
Tip: Be sure to look at the warranty of a metal roof. Some metal roofing manufacturers allow you to transfer their Lifetime Limited Warranty to new owners if the home is sold (a big boost to home value).
The Durability of Metal Roofing
Climate conditions vary drastically from region to region, and not all roofing materials are equipped to handle severe weather.
For example, a home in tropical Hawaii requires a roof that can withstand high winds, heavy rains, humidity and salt air. A home in New England, however, needs a roof that can withstand heavy snow loads and repeated freeze/thaw cycles.
Metal roofing is one of the most durable roofing materials on the market and checks all the boxes when it comes withstanding the elements:
Metal roofs are engineered to withstand the elements and, as a testament to their durability, have withstood the test of time. Metal roofs have been used by the industrial sector for more than 100 years. In fact, many are still in use on historic industrial buildings after a century.

Fortunately, metal roofs provide industrial strength without industrial aesthetics for the residential sector. The design versatility of metal roofing may be surprising to some homeowners, but it's one of the main reasons why a metal roof increases the value of a home.

Tip: Insurance companies are well aware of how durable metal roofing is. Ask your insurance agent if there are discounts for metal roofs available in your area. Many states offer substantial savings on homeowners insurance. In Texas, for example, homeowners can save up to 35% on home insurance.

The Curb Appeal of Metal Roofing
Metal roofing comes in a variety of styles, textures and colors to enhance curb appeal. For instance, stone-coated metal roofing effortlessly replicates the aesthetics of less durable roofing materials like asphalt shingles, clay tiles and wood shake.
Take clay tile, for example. It's almost impossible to imagine a Spanish-style home without a traditional clay tile roof. But clay tiles are fragile, high-maintenance and heavy. They're also one of the most expensive roofing materials on the market–too high of a price to be paid for a roof that offers minimal benefits.
Tip: Look at metal roofing galleries to see how it elevates the curb appeal–and value–of any home.
Increase the Value of Your Home With DECRA Metal Roofing
Available in five styles and more than 30 colors, the ageless beauty and performance of a DECRA stone-coated metal roof can increase the value of your home. It can also incentivize buyers to pay a premium price for the peace of mind that comes with knowing their home is protected by the strength of steel.
Ready to experience the DECRA Metal Roofing difference? Order a complimentary sample today.
Editor's Note: This blog was originally published in March of 2021 and has been updated with current information.