It's that time of year when homeowners begin their summer remodeling and home improvement projects. And while a new roof may not seem as glamorous as a kitchen or bath remodel, the benefits and ROI are just as exciting.
Whether you're remodeling prior to selling your home, dealing with a damaged roof, or simply looking to enhance curb appeal, this article will cover everything you need to know before replacing your roof, including:
Let's get started with the first step homeowners should take before taking on any roofing project.
Schedule a Roof Inspection
One of the most prudent steps a homeowner can take–even before finding a contractor–is to schedule a roof inspection. Though a roof inspection isn't mandatory for a remodeling project, it provides homeowners with an unbiased evaluation of their roof before the project starts and ensures the original roof was installed properly. Reputable roofing inspectors are available through the National Roof Certification and Inspection Association (NRCIA).
After securing a roof inspection, you'll want to find an experienced, reliable roofing contractor, if you don't have one already.
>>>Related Resource: How to choose the right roofing contractor.
Roof Over vs. Roof Replacement
After sharing the roof inspection report with your contractor, you may want to discuss your options when it comes to a roof over.
A roof over is a different installation method when a layer of new roofing material is placed over the existing shingles.
A full tear-off, or roof replacement, is when the old roofing materials and underlayments are completely stripped from the roof, exposing the deck, and new underlayment and roofing materials are installed.
A roof-over is the fastest and most cost-effective way to upgrade your roof, but it's not always the best option.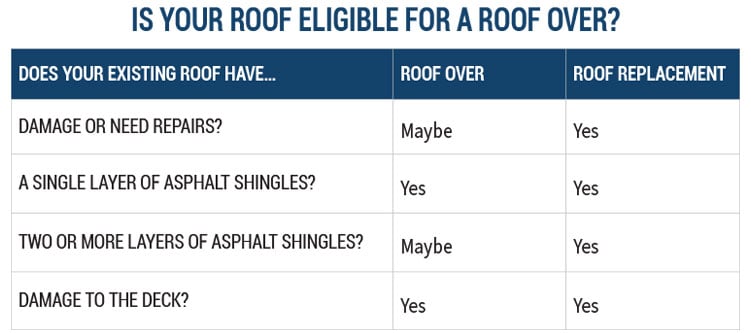 Does your existing roof have damage or need repairs?
Even if only a portion of the existing roof needs repairing, you'll want to consider that portion of the roof may be uneven or noticeably different from the rest of the roof. If more than a third of the roof needs to be repaired, it's better to replace the roof than install over it. If there is any damage to the underlying roof deck, a roof over is not an option.
Does your existing roof have a single layer of asphalt shingles?
If building codes allow, certain lightweight roofing materials, such as metal, can be installed directly over asphalt shingles, saving time and money on the roof replacement project. Make sure you are aware of your options when it comes to a roof over to see if a lightweight and durable roofing material can be considered.
Does your existing roof have two or more layers of asphalt shingles?
Building codes can vary drastically from one region to the next, and while most building codes allow for a roof over a single layer of asphalt, some allow for installing over two layers of asphalt shingles. Talk to your roofing contractor about your options.
Does your existing roof have damage to the deck?
As mentioned above, any damage to the roof deck or the underlying structure rules out roof-overs since the existing roofing materials need to be stripped in order to access the deck.
>>>Related Resource: 5 things to consider before a roof remodel.
Navigating Supply Chain Issues
You've likely come across articles discussing supply chain issues, inventory shortages and delays. In 2021, the entire construction industry was affected by supply chain issues and the roofing industry was impacted more than other segments. Limited inventory left roofing contractors empty-handed and frustrated. On top of that, the constant price increases made the bidding process seem like a high-risk gamble for roofing contractors, especially when material prices spiked and quickly outpaced bids.
The volatility of the supply chain and the cost of materials is something to be mindful of as you plan your roof replacement. Your roofing contractor is likely very aware of the supply chain issues, so be sure to discuss if the cost or timeline of your project will be impacted.
One way to ensure that your project stays on time and on budget is to work with your contractor to select a roofing product that is manufactured in the United States and has fully-stocked inventory.
>>>Related Resource: Roofing industry supply chain outlook for 2022.
Common Types of Roofing Materials
There are a number of different roofing materials to choose from when planning a remodel. The most common roofing materials include asphalt shingles, clay or concrete tiles, wood shingles or wood shake, and metal roofing.
Asphalt Shingles
Asphalt shingles are the most common type of roofing material, simply because of their cost. While asphalt shingles are the cheapest roofing material, it's important to note that cheaper isn't always better, especially when it comes to roofing. Asphalt roofs need to be replaced as frequently as every 12 years and are one of the least sustainable and energy-efficient roofing materials on the market. Homeowners have since shifted to more modern, environmentally-friendly and element-resistant roofing materials.
Clay or Concrete Tiles
The look of tile is practically a requirement for Spanish and Mediterranean-themed properties. However, as one of the heaviest, most fragile and high-maintenance roofing materials on the market, there is much to be desired when it comes to performance. Simply walking on a tile roof can cause damage, so homes in regions prone to hail, hurricanes, tornadoes or high winds may want to consider an alternative roofing material.
Wood Shingles or Wood Shake
Wood roofs were widely popular up until the early 1900s when more affordable and durable roofing materials were introduced. Most wood shake and shingle materials today are cut or split from cedar, cypress, pine or redwood. Similar to tile, wood roofing comes with a list of issues that require ongoing maintenance, repairs and replacement. For instance, wood will quickly fade to a dull gray after exposure to sunlight without ongoing chemical treatments.
Metal Roofing
Metal roofing is the second most common type of roofing material and grows in popularity year over year as homeowner awareness about the many benefits of metal roofing continues to grow. There are many advantages to metal roofing due to its long lifespan, durability, low maintenance and high ROI. Historically, the benefits of metal roofing were limited to the industrial sector since traditional metal roofing products were unable to meet the design requirements of the residential sector. This all changed in 1957 when the first stone-coated metal roofing product was introduced, providing an industrial-strength roof without industrial aesthetics.
>>>Related Resource: Best roofing material for all regions and climates.
When it comes to sustainability, durability and environmental impact, metal roofing is tough to beat. When the ROI of metal roofing is also considered, it's easy to see why homeowner demand for metal roofing is at an all-time high.
Benefits of Replacing Your Roof with Metal Roofing
Metal roofs have a lifespan that is two to three times longer than traditional roofing materials, like asphalt, clay tile and wood. This is important to note when considering the long-term value of a roof replacement.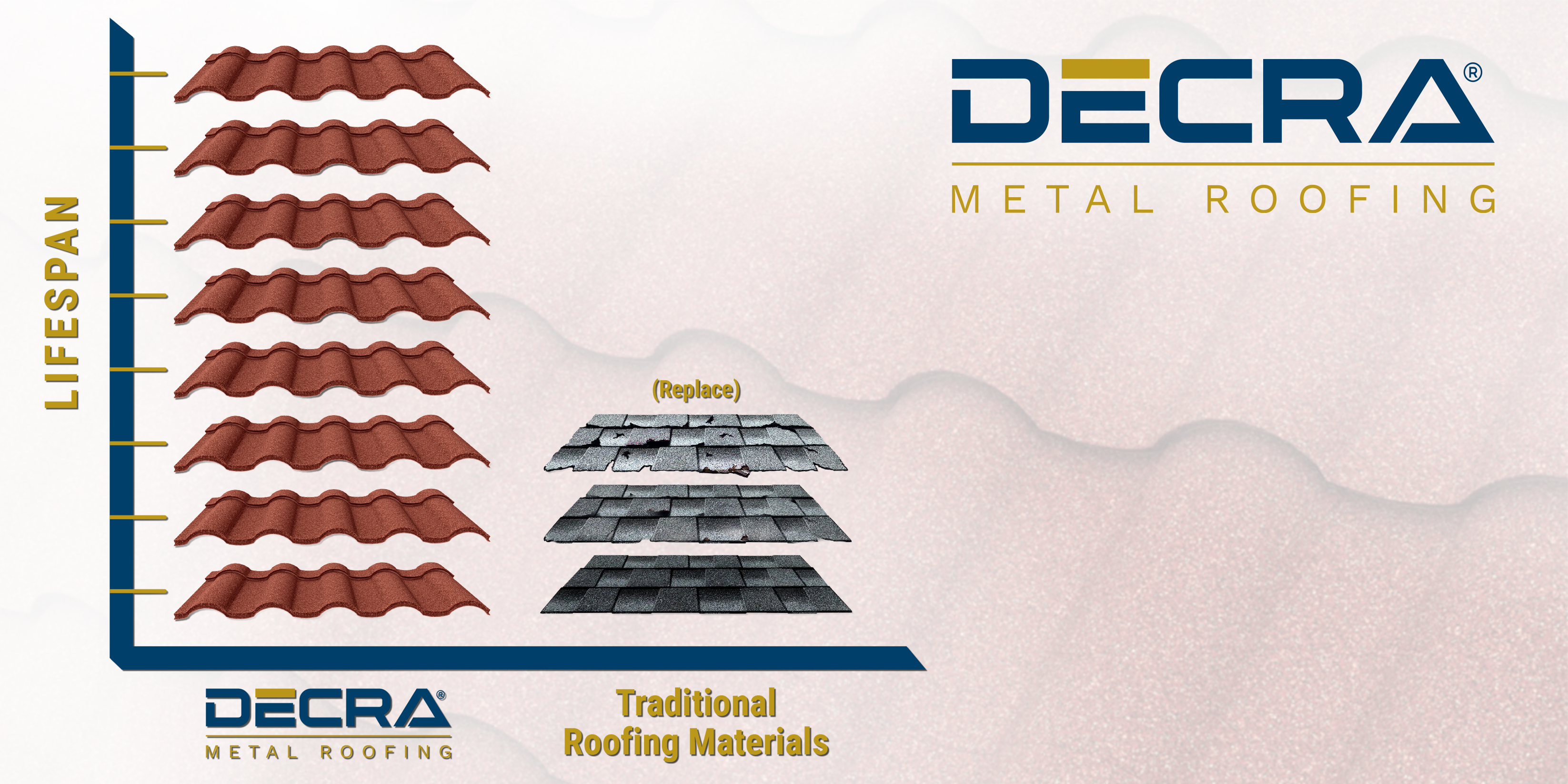 Even if a homeowner doesn't plan to stay in their home for decades, a metal roof can provide more than just long-term value.
Increased Home Value
Many homeowners choose to replace or remodel their existing roof to add value to their property ahead of a sale. A metal roof replacement can increase a home's value by as much as 6%. Additionally, homeowners are typically able to recoup an extremely high rate of a metal roof's cost, 85.9% according to national averages, with homes in the Eastern states recouping up to 95.5%.
Energy Efficiency
A modern, metal roof is among the most energy-efficient options for homeowners, and remodeling can help to further enhance this efficiency. Metal roofs effectively reflect heat energy from the sun, rather than absorbing it like a sponge as asphalt shingles do, and can reduce cooling costs by up to 25%.
Insurance Discounts
Metal roofs can qualify for insurance discounts in many states. For instance, in Texas, a metal roof can lower your homeowner's insurance by up to 35%. (Check with your local insurance carrier for available discounts).
Design Versatility
Metal roofing comes in a wide range of styles, colors and textures–all of which provide top-tier durability and performance. If maintaining the architectural integrity and style of your home is a priority, stone-coated metal roofing is what you're looking for. Stone-coated metal roofing is made from steel sheets that are "stamped" into different shapes, then coated with natural stone granules. The stone-coating process gives the stamped steel vivid colors and textures that can replicate the look of traditional roofing materials such as asphalt shingles, clay tiles and wood shakes.
>>>Related Resource: 10 things to know about metal roofing.
Roof Replacements Made Easy with DECRA Metal Roofing
As the original stone-coated metal roofing manufacturer, DECRA Metal Roofing products have withstood the test of time since 1957. Manufactured at our facility in Corona, California, our products are tested above and beyond the requirements to ensure the quality that DECRA is known for is present in each and every stone-coated metal roofing panel we produce.
Ready to see and feel the DECRA difference? Click here to order a free sample.