Experienced roofing contractors are in an excellent position to capitalize on the lucrative, high-demand and low-competition world of metal roofing.
Metal roofing is the second most popular roofing material in the U.S., and homeowners are becoming increasingly aware of its many benefits and sophisticated style.
Metal roofing consumers prioritize quality, durability and longevity over price. They are looking for a long-term solution and are willing to pay a premium price for peace of mind. But homeowners are struggling to connect with qualified metal roofing contractors in their area. In fact, homeowner demand exceeds the number of qualified metal roofing contractors in most regions.
If you're looking to grow your roofing business, now is the time to add DECRA Metal Roofing to your service offerings. Here's what roofing contractors need to know about getting started, including:
Why is Metal Roofing So Popular?
Metal roofing has been around for well over a century. Historically, metal roofing dominated the industrial sector, and warehouses, factories and other industrial properties were the only ones to benefit from the many benefits of metal roofing, such as:
Longevity: A metal roof lasts two to three times longer than traditional roofing materials like asphalt, tile and wood.
Durability: As one of the most durable roofing materials on the market, metal roofs can resist nearly anything Mother Nature has to offer, including:
Energy Efficiency: Metal roofs are one of the most energy-efficient materials on the market and can reduce cooling costs by up to 25%.
ROI: A modern metal roof can increase home value by up to 6%.
Today, metal roofing is on a path to dominate the residential sector, as well.
While metal roofing was once considered "too industrial looking" for residential properties, stone-coated metal roofing bridged the gap between industrial strength and residential style. Since stone-coated metal roofing is made from steel sheets, and then coated with stone granules, it can achieve the look of traditional roofing materials without the shortcomings. So homeowners can get a durable metal roof, while still being able to choose from a variety of colors and textures to suit their style.
>>>Related Resource: Read 10 Things You Need to Know About Metal Roofing.
Are DECRA Metal Roofs Easy to Install?
DECRA metal roofs don't require any special tools and are easy to install.
Lightweight: At just 1.4 to 1.6 pounds per square foot, DECRA roofs are one of the lightest roofing materials on the market.
Versatile: DECRA roofs can be installed either on battens or direct-to-deck.
No special tools are required: DECRA panels can be cut with a circular saw or table saw using a concrete or metal cutting blade, or even tin/aviation snips.
Not only are DECRA roofs easy to install, but they're also easy to order. With fully stocked warehouses in strategic locations throughout the U.S., DECRA can ship materials quickly after receiving the purchase order.
And since DECRA Metal Roofing products are manufactured at our facility in Corona, California, you'll never have to worry about out-of-stock items or supply chain delays that plague overseas manufacturers.
What Does a DECRA Metal Roof Look Like?
The stone-coating process results in a wide variety of vivid colors and distinct textures that provide the same aesthetics as traditional roofing materials, such as asphalt shingles, clay tiles and wood shakes.

Tile Metal Roofing
DECRA Villa Tile and DECRA Tile offer the beauty of Spanish barrel-style or Mediterranean scalloped tile.

Shingle Metal Roofing
DECRA Shingle XD provides the thickness, depth and dimension of architectural shingles.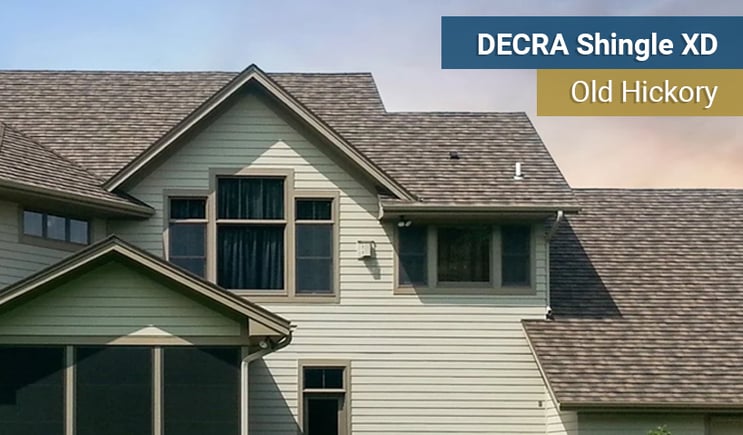 Wood Metal Roofing
DECRA Shake XD and DECRA Shake offer the rustic look of wood shake and wood shingles.

>>>Related Resource: Stone-Coated Metal Roofing for Every Style
How Can I Add DECRA Metal Roofing to my Service Offerings?
The first step to adding DECRA Metal Roofing to your service offerings is to join DECRA's Contractor Network.
Qualified contractors who already install or are looking to install DECRA Metal Roofing are eligible to join.
Once you've joined the network, a member of our dedicated contractor support team will contact you and help get you started with DECRA Metal Roofing.
>>>Related Resource: Learn more about the DECRA Contractor Network by reading the FAQs here.
After joining, be sure to check out some of the many resources we provide to contractors. Here are just a few of the resources available to help get you started with DECRA:
DECRA Knowledge Base
This library of professional resources includes estimating sheets, installation guides, spec sheets, marketing materials and more.
FAQs for Homeowners About DECRA Metal Roofing
To help you sell DECRA Metal Roofing, be sure to read these homeowner FAQs.
5 Myths About Metal Roofing, Debunked
In addition to the homeowner FAQs, you'll want to familiarize yourself with some common myths about metal roofing.
Get Started With DECRA Metal Roofing
Join DECRA's Contractor Network today to learn how we can help you get started with DECRA Metal Roofing.
Editor's Note: This blog was originally published in May 2020, and has been updated to reflect current information.