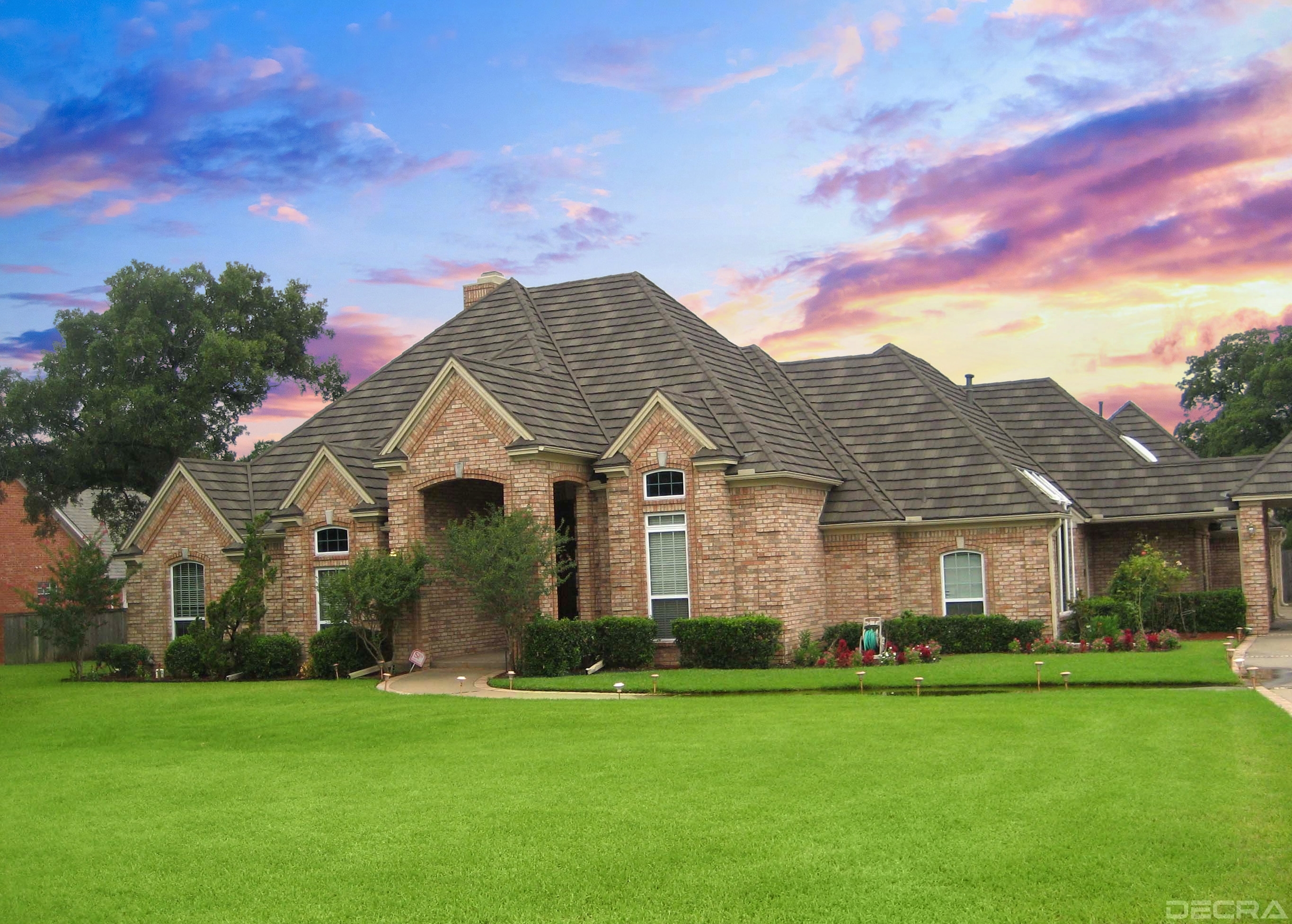 Strength and Beauty For All Styles With Stone-Coated Metal Roofing
For decades, residential architects and master home builders had no choice but to rely on less efficient, less durable, "traditional" roofing materials to fulfill the elements of style in design themes for the most sophisticated, elegant homes. Metal roofing choices were limited to standing seam types or large bland panels which did little to enhance architectural themes and the all-important curb appeal. Residential roof designers were forced to compromise on the many benefits which metal roofing provides; well-known benefits long incorporated in roofs for resilient industrial and commercial buildings.
Today, DECRA's innovative stone-coated steel roofing products prioritize style, beauty, and aesthetics, combined with the superior strength and durability to enhance any residential roof design whether it incorporates shakes, shingles, or tile.
The Benefits of Metal Roofing
Weight- Metal roofing is by far the lightest option with an average roof weight of just 4,500 pounds. Weight is the most important consideration in terms of supporting structure and ongoing maintenance. Asphalt shingle roofs average 12,000 pounds and require a complete tear-off after just 2 layers. Even lightweight wood shakes weigh in at 6000 pounds, and fragile clay tile tips the scales at a whopping 45,000 pounds. DECRA stone-coated steel roofing products provide the lightest weight available at 1.4-1.6 pounds per square foot. With average roof weights as low as 3,700 pounds the need for a complete tear-off of the existing roof is frequently eliminated.
Energy efficiency- According to the Metal Construction Association's Ecological Bulletin, property owners report energy savings as high as 20% after installing metal roofing. Superior solar reflectance at 65% and exceptional thermal emittance properties of 80% for coated metal roofing results in significant reductions in air conditioning expenses.
Longevity- Metal roofing is the material of choice for buildings intended to last a lifetime. Many metal roofs for industrial and agricultural buildings are over 100 years old and still stand strong ready to endure even longer. Longevity is one of the driving factors in the trend toward residential metal roofs. Metal roofs are a "one and done" solution intended to last a lifetime, as opposed to asphalt shingles which need periodic replacement every decade or two in even the mildest climates. Today's residential metal roofs are able to meet the most rigorous wind uplift standards and stringent building codes. DECRA stone-coated steel products are warrantied to 120 mph, a rating which can't be matched by any other roofing material.
Strength and Durability- Metal roofing is the most impact-resistant option available, able to withstand hail, snow, sleet, and ice. DECRA metal roofing products are UL 2218 certified with a Class 4 Impact Resistance rating that is so strong it qualifies for insurance discounts in many states. The elegant style choices made possible with the DECRA stone-coating process now makes that unequaled strength and durability available to protect homes of every style.
Versatile Stone-Coated Steel Roofs For All Styles
Despite its many benefits, conventional metal roofing panels could hardly complement the prominent exterior of a stately Greek revival home with its elegant columns and embellished cornice lines. For Pueblo revival and classic Spanish themes, the clay tile roof is a prerequisite, and a standing seam metal roof on a Tudor or Victorian mansion design steeped in tradition is simply unthinkable. Other traditional home designs such as the Cape Cod are hard to imagine without their steeply pitched shingle roofs and prominent gables, and large metal panels lack the versatility for practical use on extravagant, complex roof designs which are often the most outstanding design features of prominent stately homes.
The good news for architects, builders, and discerning homeowners is that DECRA's innovative stone-coated steel roofing products bring style without compromising strength or durability. For each traditional roofing material, DECRA provides a superior alternative product which brings industrial strength and durability to the residential sector without compromising aesthetics, elegance, and sophistication.
DECRA Metal Tile Roofing For Ageless Beauty
The Mediterranean Villa is a popular theme for many regions and the clay tile roof aesthetic is an essential element of these classic homes. Tile is almost mandatory for the exotic cupolas, gables, and complex roof tiers so prevalent in classic Villa themes. DECRA stone-coated steel provides the essential aesthetic appeal without the structural shortcomings of clay tile which cracks easily and is quite vulnerable to hail and storm debris impact.
Clay tiles also absorb up to 15% of their weight in water and have such poor wind uplift characteristics that they aren't warrantied against wind damage at all. DECRA's Villa tile selection covers the full range of architectural tile styles from Rustico Clay to Granite Grey to Venetian Gold and more, providing all the aesthetic appeal of traditional clay tiles with the exceptional durability of stone-coated steel.
DECRA Metal Shake Roofing: The Beauty and Distinction of Wood Shakes
Wood shakes were once the most readily available roofing material before the advent of asphalt shingles made them the most dominant material in the roofing industry. The reason wood gave way to asphalt is durability. While wood shakes undoubtedly provide a distinctive beauty, it's a beauty that goes to grey quickly after a brief period of exposure to the elements. Cupping, splitting, and loosening around the fasteners make wood shakes prone to wind uplift and their impact and moisture resistance is minimal.
Wood shakes, even top-of-the-line cedar, are vulnerable to bacteria and fungus and are one of the most high maintenance roofing options. DECRA stone-coated steel shakes provide the same distinctive rich beauty of cedar shakes that lasts a lifetime and they are available in a broad range of colors to augment any color scheme. DECRA shakes have the durability to handle anything Mother Nature dishes out in all climate conditions ranging from tropical Lahaina, Hawaii to subarctic Edmonton, Canada and all regions in between.
DECRA Metal Shingles Roofing: A Robust Architectural Shingle at a Fraction of the Weight
Just as asphalt shingles eclipsed wood shakes in the early 20th Century, we now see heavyweight architectural shingles taking a back seat to DECRA stone-coated steel shingles here in our 21st Century. Asphalt shingles are only a short-term solution for roofs intended to last for years as opposed to those intended to span 5-10 decades or more. While the lower initial cost of heavyweight shingles makes them popular, the need for frequent tear-offs and replacement nullifies the expense "advantage" when the entire cost for roofing materials, time, and labor over the lifespan of the home is considered.
DECRA metal roofing shingles feature thick-cut edges to provide the same dimensionality of a heavy architectural shingle. The incredible lightweight characteristic means that the need for a complete tear-off of the existing roof material isn't necessary in many cases. Style choices include Natural Slate, Classic Cobblestone, and Old Hickory. Protective layers and a unique DECRA interlocking system add shear strength and wind resistance that no other shake or heavy shingle can provide.
Conclusion: The DECRA Difference in Sustainable Metal Roofing
DECRA is the originator of stone-coated steel roofing products made right here in the USA. While we have many overseas imitators, none have met the gold standard of metal roofing set by DECRA's lifetime warrantied products. Sustainable DECRA metal roofing products are made from 25-30% recycled material with a strength to weight ratio unmatched by any other roofing material. Lightweight DECRA roofs can reduce the need for extensive support structures and by eliminating the need for tear-offs our products reduce the ecological footprints of our customers and divert waste materials from landfills.
When you won't settle for anything less than the best roof for your home,DECRA roofing products provide the sustainable, one-and-done roofing solution to last a lifetime so please don't hesitate to contact us.