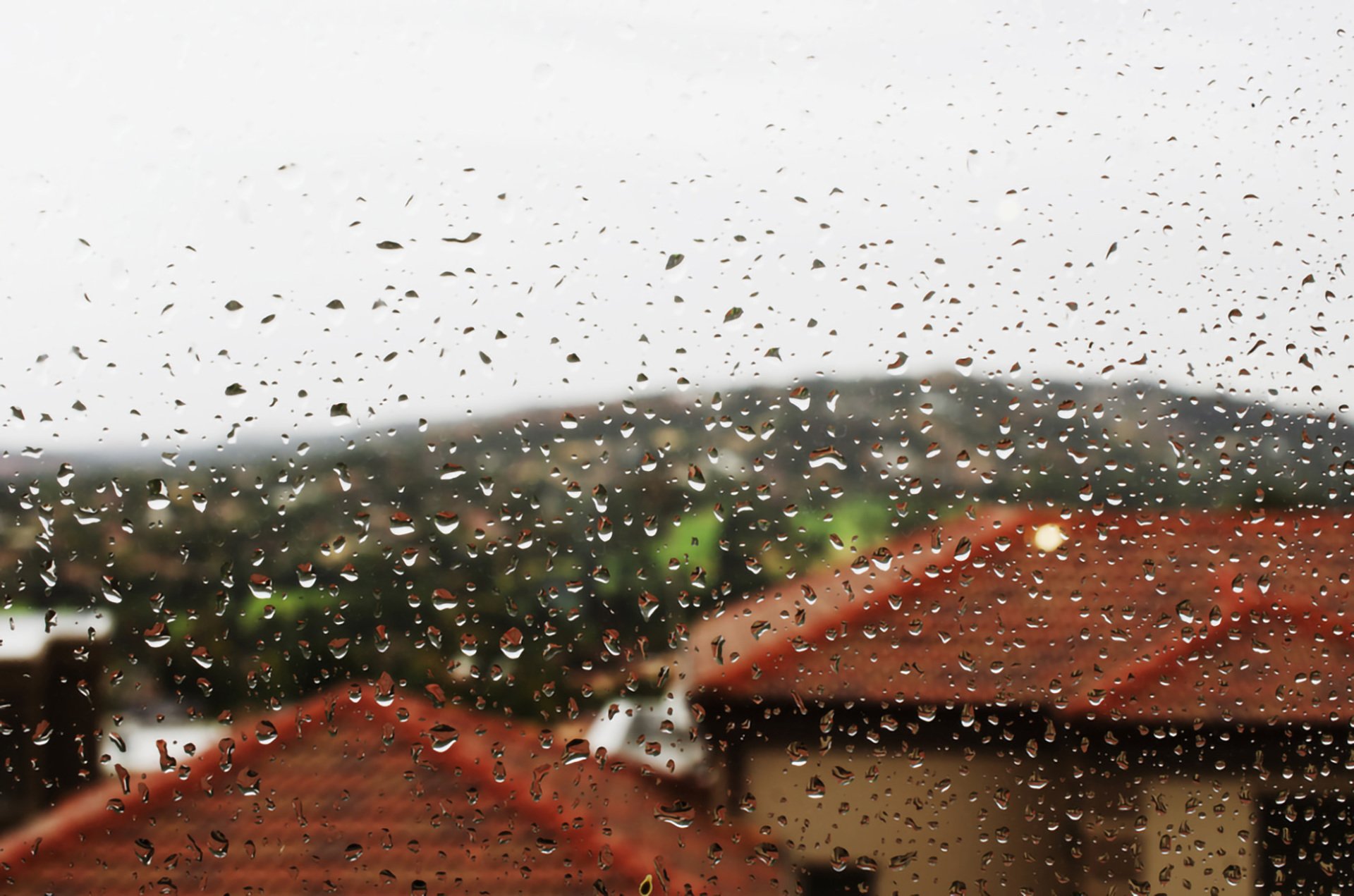 Are Metal Roofs Loud in the Rain?
This is one of the most frequently asked questions we hear from those considering the pros and cons of a metal roofing upgrade. Both homeowners and businesses have the same concerns about disruptive rain noise on metal roofs.
The short answer is, yes, uncoated standing seam metal roofs can indeed be loud in the rain. But as you'll learn, DECRA stone-coated steel roofing profiles don't require any extra soundproofing materials and are peacefully quiet in the rain thanks to the sound-absorbing cushion of granular stone coating.
How Coatings and Textures Absorb Sound to Reduce Noise
A hard flat metal roof, like the smooth surface of a drum, elevates noise levels on impact because it's smooth uncoated surface has no way to shorten the prolonged sound reflection known as reverberation.
That means the noise can be amplified even after the initial rain or hail impact since sound waves continue to reflect across the hard smooth surface until all the sound energy has finally dissipated. Think of two metal orchestra cymbals continuing to emit sound long after they've been crashed together.
Preventing sounds from hitting hard flat surfaces is the key to noise reduction. The thicker the coating and the more irregular the surface texture, the more effective it is at disrupting and dampening the reverberation of sound waves. That's why the granular stone coating of a DECRA roof is inherently quiet during a storm.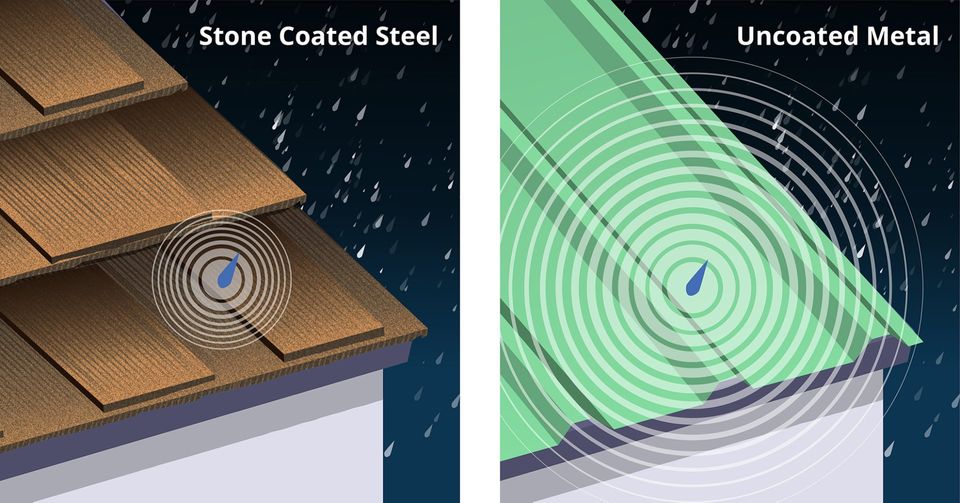 Soundproofing Uncoated Standing Seam Metal Roofs Is a Project in Itself
When it comes to metal roof acoustics, the keyword is "uncoated". An uncoated metal roof can be like living inside a kettle drum when intense rain is pounding down on the flat, uncoated surface. Add wind-driven hail, sleet, and ice to the equation and normal conversation or a quiet evening enjoying TV, music, or a peaceful night's sleep under just isn't going to happen.
Standing seam roofing made from flat metal or aluminum sheets can generate disruptive noise at levels up to 70 decibels which is the same noise level as:
A running vacuum cleaner
Busy freeway noise from 50 feet away
If severe wind-driven hail or frozen sleet impact raises metal roof noise to the 80-90 decibel range, residents inside will be dealing with noise levels equivalent to:
A freight train passing by at 50 meters away
A working garbage disposal
A running blender
An acceptable level of rain noise reduction can be achieved with uncoated metal roofing, but only by adding expensive sound-proofing underlayments. Modern synthetic soundproofing underlayments can cost as much as $8.00 per square foot, not counting contractor time and labor expenses. Gap-filling foams are somewhat effective but can be messy and may cost over $200 for a single case of 12 small cans.
With DECRA stone-coated steel roofing, your home or business will have a lifetime of roofing protection that's just as quiet as short-lived asphalt shingles and shakes which may last only a decade or two, and without the need for extra soundproofing underlayments that uncoated standing seam metal roofs require.
The Sound Cushion of Granular Stone-Coated DECRA Metal Roofing
DECRA's advanced acrylic-formula bonding and unique base coatings ensure that 100% of the sound-absorbing layer of fine granular stone-coating will stay in place for the lifetime of your home or building. Imitation stone-coated metal products can lose the all-important protective coating during transport, installation, or when under assault by rain and the elements. This opens the door to corrosion and roof leakage when the underlying steel is exposed.
With stainless steel fasteners and our unique panel interlocking system, DECRA roofing profiles don't loosen or rattle even under severe storm conditions, and wind-driven rain resistance has been lab-tested at speeds up to 110 mph. When the rain changes to hail, DECRA's highest possible UL2218 Class 4 impact rating easily withstands the assault.
About DECRA Metal Roofing
DECRA is the original manufacturer of high-grade stone-coated steel products designed to withstand anything Mother Nature can dish out in any climate from the tropics to the arctic. DECRA is based right here in the U.S. at our state of the art facility in Corona, California. Since our founding in 1957, DECRA's success has inspired a host of imitation and overseas products, but none can match the quality of the original DECRA stone-coated steel formula.
When you're ready to join the nearly one million DECRA homeowners who refuse to settle for anything but the best roof for a lifetime, please don't hesitate to contact a DECRA advisor today.