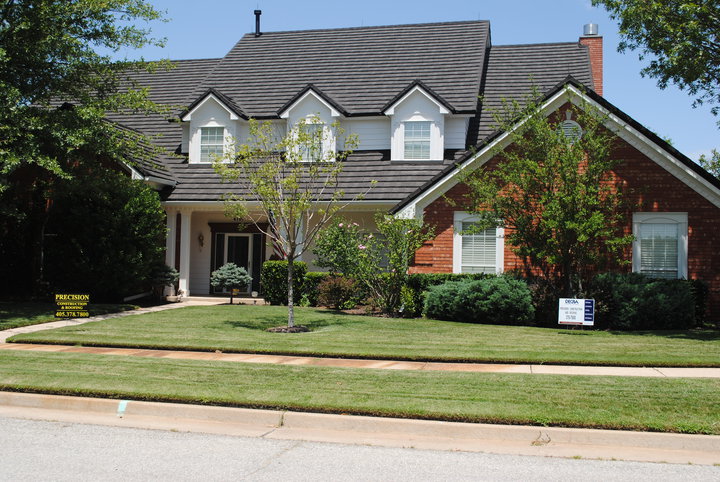 What Homeowners Need to Know Before a Roof Replacement or Remodel
Even at the highest end of the real estate spectrum many of today's most sophisticated and elegant homes are encumbered by less than optimal "legacy" roofing systems handed down from the 20th Century. All conventional roofing materials have a limited life cycle and even the best-built conventional roofs inevitably require replacement. When homeowners decide to upgrade, the most FAQ is "What type of roof is best for my home?"
This query is frequently answered with a comparison of traditional, conventional roofing materials. You can easily see from our own Roofing Benefits Comparison Chart that comparisons of conventional roofing materials are an evaluation of "less than best" options. Roofing choices run the gamut from the heavy asphalt shingles which cover 70% of homes presently, to decorative but fragile clay tile, rustic but weather-prone wood shakes, and durable but rather industrial appearing metal roofs. All of these conventional roofing materials provide some measure of protection, durability, and beauty but none can compete with DECRA stone-coated metal roofing.
The decision to forego the many benefits of a superior metal roof which can last for decades is often influenced by the aesthetic factor. Flat utilitarian metal roofs clash with sophisticated home designs so blatantly that many homeowners simply stick with the original traditional roofing materials, resolving to tolerate the disruption and expense of inevitable roof replacements every 20 years or so. Metal roofing is by far the best roofing material in terms of durability, weather resistance, energy efficiency, and low maintenance, but for decades the majority of large-panel and standing seam metal roofs lacked the aesthetic versatility for practical residential applications which enhance value and curb appeal.
DECRA stone-coated steel roofing systems have changed all that. Combining beauty, strength, durability, and installation versatility to tackle the most complex and intricate roof designs we can confidently answer that a DECRA metal roof is the best type of roof for your home, regardless of the home style or location. As we move on we'll explain why DECRA stone-coated steel is rapidly emerging as the leading roofing choice and address some other common FAQs.
Why is the Roof in Need of Replacement?
Aging Roofs
As we noted above all conventional roofing materials deteriorate with age, and replacement is mandatory in order to protect the roof deck and supporting structure from further exposure damage. Even some metal roofs can be vulnerable to galvanic corrosion and warping and buckling can occur if the fastening system hasn't allowed for adequate "breathing" to deal with expansion and contraction.
Asphalt shingles may delaminate even in sunny climates. Wood shakes are prone to mold and fungus problems. Clay tile fractures easily from hail and storm debris impact. The good news for homeowners is that DECRA offers a stone-coated steel roofing product to replace all of these conventional roofing styles. Layered steel strength and durability is available to replace every conventional material while retaining the home's original elegance including:
DECRA Villa Tile for Old World Italian elegance

DECRA Tile for the classic Mediterranean style

DECRA Shingle XD for the dimensionality and robust thick-cut appearance of heavy architectural shingles

DECRA Shake XD for traditional rustic hand-split wood shake roof designs

DECRA Shake replicate the colors and beauty of cedar shakes with superior strength and longevity
Remodeling and Roof Upgrades
For homeowners upgrading existing roofs to augment style or improve energy efficiency DECRA metal roofing is the "one-and-done" solution. After installing metal roofing homeowners report up to 20% in energy savings. DECRA's ultra-lightweight roofing systems often eliminate the need for a complete and costly tear-off of the existing roof when it is still in serviceable condition. With just an average roof weight of 4,500 pounds, DECRA roofs are 1/10 the weight of heavy asphalt shingle roofs which tip the scales at 45,000 pounds.
Facing the Elements: Weather Resistance and Durability
Ageless Beauty Through The Harshest Winters
While stone-coated steel roofing is considered the wave of the future in the roofing industry, DECRA stone-coated steel is an innovation with over six decades of history supporting its reputation as the best roofing product available. Ottowa, Canada has some of the harshest seasonal weather elements any roof can face. Way back in 1978, building owner and roofing contractor Charles Lotte chose DECRA stone-coated steel tile as the best defense against the harsh Canadian winters. Today the DECRA Tile Garnet roof has retained the same elegance and beauty it had on day one.
Complex Design and Rigorous Building Codes in Hurricane Regions
Miami-Dade, Florida has some of the most rigorous state and local approval requirements for roofing systems. When the Hippocrates Health Institute of West Palm Beach required a roofing upgrade DECRA Villa Tile (in Venetian Gold) met the region's most demanding wind resistance requirements and provided the installation versatility to cope with the building's intricate 22-sided roof design.
DECRA Villa Tile replaced the original clay tile roof without compromising on the aesthetics of the prestigious Institute. The unique interlocking feature makes the Villa Tile surface easier to walk on while making them much more secure, able to resist the highest winds experienced in the hurricane zone.
Roofing Shingle Warranties: Some Words of Caution
Many homeowners are lured by impressive conventional roofing warranties with promises of 30-50 year guarantees. As this "Best Roof Installation Guide" at Inspectopedia reminds us, "the longer warranties are more of a marketing strategy than an accurate predictor of shingle life." Any manufacturer can void a warranty if they determine that installation hasn't strictly adhered to their instructions.
The DECRA Lifetime Limited Warranty is a clear reflection of DECRA's confidence in the superior quality of our stone-coated steel roofing products including these assurances for the lifetime of the owner:
Will remain free from manufacturing defects that would adversely affect the performance of the Panels

Will be resistant to blow-offs in wind velocities up to 120 miles per hour. (The best asphalt shingles are only rated to 60-110 for wind uplift and wood shakes and clay tile roofs are not warrantied for wind resistance at all.)

Will resist hail damage, defined as penetration of hail stones completely through the panel; or cracks or splits of the panel's steel substrate around the point of impact.
DECRA products are UL2218, Class 4 impact certified with unsurpassed fire resistance. DECRA roofs provide such superior strength and durability that they qualify for insurance discounts in many states.
Comparing Costs
One of the marketing myths exploited by conventional roofing suppliers is that asphalt shingles are the most cost-effective option available. While the cost of initial installation is less than that of a DECRA stone-coated steel system, the numbers simply don't hold up when the entire lifespan of the building is factored in. A more accurate way of comparing would be to multiply the cost of repetitive roof replacement jobs every 10 to 20 years and compare that to the one-time installation cost for a DECRA layered steel roof which will last a lifetime.
When you'll settle for nothing less than the best roofing available to protect your valuable home DECRA is the one-and-done solution.