Churches and other places of worship are often the architectural centerpiece of their communities and are intended to endure as spiritual sanctuaries for generation after generation. As such, churches often rely on traditional architecture, which can present a challenge when it's time for a new roof.
While traditional roofing materials–such as asphalt, clay tile and wood–can preserve the architectural legacy of the church, they leave much to be desired when it comes to performance. With traditional roofing materials, churches are often faced with the difficult decision of prioritizing durability or design.
Fortunately, stone-coated metal roofing allows churches to preserve their historic architecture while benefiting from the durability that only stone-coated steel can provide.
Here's how.
Preserve History and Tradition with Stone-Coated Metal Roofing
Tradition is a venerated part of any religious organization. To ensure the historic architecture of the church is preserved, a new roof must:
Accommodate elaborate and ornate roof designs.
Maintain original aesthetics.
Replicate the original roof's texture and color.
Made from industrial-strength steel, DECRA stone-coated metal roofing products check all of these boxes, thanks to the design versatility that comes from the stone-coating process.
The steel is "stamped" into the shapes of traditional roofing materials and then coated with stone granules. The stone-coating process results in a wide range of vivid colors and distinctive textures to meet the aesthetic demands of any church.

In addition to religious buildings, the design versatility of DECRA can elevate the aesthetics of everything from historic mansions to upscale resorts to camping pods.
Hearthstone Historic House Museum
"The roof is indistinguishable from our previous cedar shingle roof and visitors are quite surprised when they learn that the Victorian era roof is actually made of modern high-grade steel." -George Schroeder, Executive Director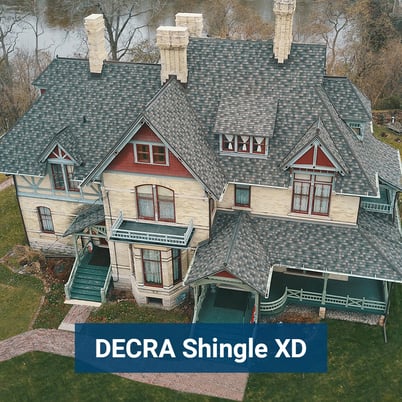 "DECRA Metal Roofing replicated the classic theme of clay tile and maintained the Mediterranean design of the facility, while also providing reliable, long-lasting protection for the structure." -Wesley Whitehead, Owner, Blessed Oasis Resort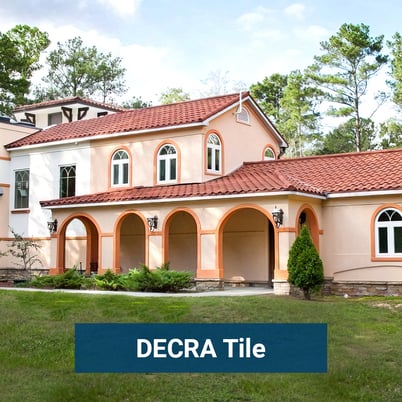 "We needed a roofing product that would bend enough for the pod's design. Additionally, the pods required a roof that could handle every climate — from Northern Canada to the deserts of New Mexico and everything in between. When it comes to durability, DECRA products are tried, tested, and true. Hundreds of pods in the UK are built with DECRA and we followed suit. In harsh climates, they have proved to be an excellent, long-term and upscale roofing solution." -Craig Kelley, Owner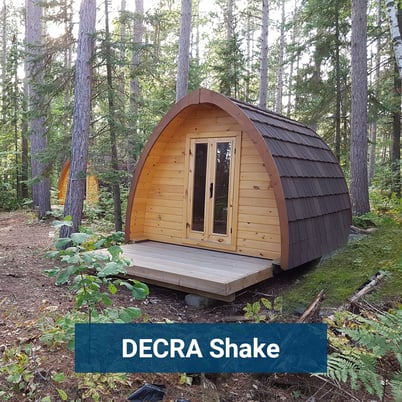 Speaking of durability, let's discuss how stone-coated metal performs against the elements.
Performance and Protection with Stone-Coated Metal Roofing
From tropical Hawaii to blistery Canada to hurricane-prone Miami-Dade, Florida, stone-coated metal roofs can withstand nearly anything Mother Nature has to offer, including:
The durability of a stone-coated metal roof is just one of its many benefits.
"For a church, the preservation value of a DECRA roof turns it into an investment rather than a lost expense." -Robert Kulp, National Roofing Contractors Association
Stone-coated metal roofing provides religious organizations with ROI-boosting benefits such as:
DECRA Stone-Coated Metal Roofing for Churches
DECRA's stone-coated metal roofs have enhanced the beauty and traditional architecture of churches throughout the U.S. for more than 60 years. As the original stone-coated metal roofing manufacturer, DECRA roofs have withstood the test of time and set the industry standard for durability.
Manufactured at our state-of-the-art facility in Corona, California, DECRA roofs undergo extensive third-party testing by independent labs to ensure the quality that DECRA is known for is present in each and every panel we produce.
If your church or place of worship is looking for a roof that provides both industrial strength and architectural beauty, you're looking for a DECRA roof.
Contact a DECRA Metal Roofing advisor today to learn more about stone-coated metal roofing.