Desert homes face a constant barrage of sunlight and UV exposure, severe temperature fluctuations, high winds and abrasive sand. Desert weather is so intense it can even strip paint and corrode windshields, so a durable and long-lasting roof is a must for homeowners in desert climates.
If you're in search of the best roof for desert homes, we'll cover everything you need to know in this guide, including:
What to Look for in a Roof for Desert Homes
The best type of roof for desert homes is one that is durable and long-lasting.
The daily assault of high winds and abrasive sand can quickly take its toll on the roof. Worse, intense wind storms featuring massive movements of sand, known as haboobs, have been increasing in frequency year-over-year so much so that insurers have cited them as new risks for the growing developed areas in desert regions.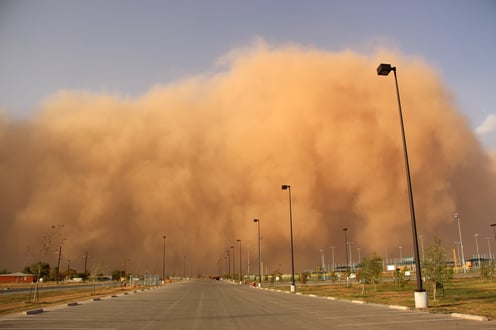 Since haboobs are often created by intense thunderstorms, heavy damaging mud storms can also occur. If the thunderstorm is "dry," walls of dust and scattered storm debris up to three miles high can accompany the high winds.
To withstand the high winds and sand storms of the desert, look for a roof that:
Approved for use in high-velocity hurricane zones (HVHZ). Building products used in HVHZs, including roofing products, are rigorously tested by third-party labs to prove their resistance to high winds. While only three counties in Florida are designated as HVHZs, roofing products approved for these zones are beneficial to homeowners in regions that experience high winds.

Has a Class 4 Impact Rating

. Conducted by Underwriters Laboratories, an independent and not-for-profit lab, the UL2218 Impact Rating test is the industry standard for how well a roof can withstand impact from hail and debris. The best type of roof for desert homes will have a Class 4 Impact Rating. If a roof can withstand hail, it has the potential to withstand the frequent assault from sand and debris.
Heating and cooling costs are among the most significant expenses for homeowners in desert regions, so an energy-efficient roof can help reduce energy costs. Additionally, desert homes are exposed to long periods of sunlight and UV rays, so it's critical to find a roof that won't degrade or deteriorate after decades in the sun.
To combat the scorching highs, frigid lows and constant exposure to the sun, look for a roof that:
Reflects heat up and away from the home to improve energy efficiency.
Withstands severe temperature fluctuations and prolonged exposure to UV rays.
How Common Roofing Materials Perform in a Desert Climate
Asphalt Shingles
Asphalt shingles are one of the most popular roofing materials due to their price. As the cheapest roofing material on the market, it's important to be aware that cheaper isn't always better when it comes to roofing.
As a petroleum-based product, asphalt shingles are neither energy-efficient nor environmentally-friendly. Rather than reflecting heat away from the home, they absorb heat from the sun and radiate the heat down into the home long after the sun sets.
Worse, asphalt shingles have one of the shortest lifespans of any roofing material, needing replacement as often as every 12 years. In harsh desert climates, they may need to be replaced even sooner. Asphalt shingles can quickly degrade, warp and crack after continuous exposure to sunlight, extreme temperature fluctuations and UV rays.
Clay Tiles
While clay tiles meet the architectural needs of desert homes, they leave much to be desired when it comes to durability.
Clay tiles fracture easily and require ongoing maintenance. Just walking on a clay tile roof can cause extensive damage, making clay tile a questionable choice for homeowners in regions prone to high winds and wind-driven debris.
Metal Roofing
As one of the most durable, energy-efficient and longest-lasting roofing materials on the market, a metal roof can easily withstand the harsh conditions of the desert.
As Gregg Hicks mentioned in the Las Vegas Review-Journal, his number one recommendation for desert homes is a metal roof. "Costs are reasonable, about $7 to $10 per square foot, slightly higher than asphalt shingles. Metal roofs are heat- and fire-resistant, and are also considered a 'cool roof.' It doesn't retain heat and has reflective qualities. It cools quickly overnight, and it's also energy efficient."
One of the biggest benefits of metal roofing is that it provides industrial strength without industrial aesthetics.
What Type of Roof Best Matches the Style of Desert Homes?
Historically, the benefits of metal roofing were limited to the industrial sector. Most homeowners ruled out metal roofing materials, such as aluminum or standing seam due to their industrial appearance. This changed when stone-coated metal roofing entered the market.
Stone-coated metal roofing is made from steel sheets that are "stamped" into the shapes of traditional roofing materials such as an asphalt shingle, clay tile or wood shake. Next, the stamped metal panels are coated with natural stone granules to achieve the vivid colors and textures of traditional roofing materials.
Stone-coated metal roofing allows homeowners to benefit from the industrial strength of metal without compromising on style.
Whether your home requires a barrel-style Spanish tile or the distinctive scallop of a Mediterranean tile, DECRA Villa Tile and DECRA Tile provide the classic beauty of tile backed by the industrial strength of stone-coated steel.

For homes that rely on the look of an asphalt shingle, DECRA Shingle XD provides the same or better colors and textures while lasting two to three times longer.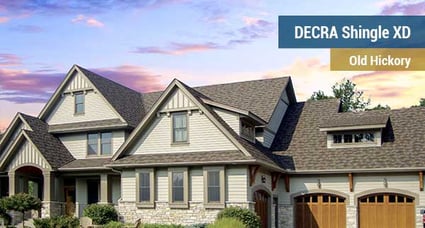 Wood shakes and shingles bring a host of maintenance, performance and durability issues. Even top-of-the-line cedar roofs can quickly fade to gray after exposure to the elements.
Available in two rustic styles, both DECRA Shake XD and DECRA Shake achieve the rustic look of wood without sacrificing strength.

DECRA Metal Roofing for Desert Homes
As the original stone-coated metal roofing manufacturer, DECRA Metal Roofing has set the industry standard for longevity and durability. Manufactured at our state-of-the-art facility in California, DECRA roofs are tested above and beyond the requirements to ensure the quality DECRA is known for is present in every panel.
Ready to see and feel the DECRA difference? Click here to order a free sample.