Throughout the 19th century, wood shake roofs were one of the most popular roofing materials in the U.S.
While wood shake roofs were considered a cost-effective and durable roofing solution in the 1800s, they fell out of favor in the 1900s as more affordable, durable and lower-maintenance roofing materials entered the market. Growing environmental concerns around deforestation and the logging industry further contributed to the decline in popularity.
Today, wood shake roofing is considered antiquated, however, homeowners in search of the rustic charm of wood shake roofing aren't out of luck. Many homeowners are surprised to learn that metal roofing provides the same rich and rustic look of wood shakes, but with the high-performance strength that only metal can provide.
Here's what homeowners need to know to find the perfect roof for their home, including:

What is Wood Shake Roofing?
Wood shake roofing is made from blocks of either cedar, redwood or pine. These blocks are split or cut into individual shakes. Wood shakes have a rough, textured surface and an uneven, thicker end piece, known as the butt, to provide a distinctive, rustic appearance.
It's important to note that the term wood shakes is often used interchangeably with wood shingles, but generally speaking, wood shakes are cut thicker than wood shingles and have a butt end that tapers down to a fine edge.

Wood shake roofs are essential for traditional and rustic-themed homes that rely on the rich color and natural texture of wood.
Unfortunately, wood shake roofs have a lengthy list of issues that require routine maintenance in the form of cleaning, treating for insects and decay, and replacing damaged shakes. They also have substantial shortcomings when it comes to durability and performance, including:
Fading to dull gray after brief exposure to the sun and elements.
Loosening around the fasteners after repeated exposure to wet/dry cycles.
Mold and other bacterial growth that requires chemical treatments.
Poor resistance to fire, so much so that wood shake roofs are neither recommended nor insured for homes near wildfire-prone areas.
What is Metal Roofing?
For centuries, metal roofing has been the go-to roofing solution for the industrial sector due to its durability, longevity and low maintenance. But the popularity of metal roofing in the residential sector was minimal for most of the 20th century due to its industrial appearance.
This changed when stone-coated metal roofing entered the market in 1957.
While all types of metal roofing products boast industrial-grade durability and performance, some metal roofing materials–including aluminum, copper, corrugated, and standing seam–are limited when it comes to aesthetics and design flexibility.
Stone-coated metal roofing, however, gave homeowners the high-performance strength that only metal can provide without compromising on style.
Made from steel sheets coated with stone granules, stone-coated metal roofs offer a wide variety of colors, styles, and textures, and replicate the look of traditional roofing materials like asphalt shingles, clay tiles and wood shakes.
Can you tell the difference between a stone-coated metal roof and a traditional wood shake roof?

Answer: The roof on the left is a traditional wood shake roof. The roof on the right is a stone-coated metal roof.
Which is Better: Wood Shake Roofing or Metal Roofing?
So, which is better? Wood shake roofing or metal roofing?
Metal roofing is tough to beat when it comes to performance, durability and longevity:
Metal roofs have a lifespan that lasts two to three times longer than traditional roofing materials, such as wood shakes.
Metal roofs are engineered to withstand the elements, and have the highest ratings for nearly anything Mother Nature has to offer including hail, fire, hurricanes, tornados, high winds, earthquakes, and snow and ice.
Metal roofs are one of the most energy-efficient types of roofing on the market, so much so they can reduce cooling costs by up to 25%.
Insurance companies love metal roofs, and a metal roof can lower your homeowner's insurance by up to 35%. (Be sure to check with your local insurance carrier for available discounts).
>>>Related Resource: 10 Things You Need to Know About Metal Roofing.
And with stone-coated metal roofing, homeowners don't have to choose between strength or style.
DECRA's line of metal shake roofing products can effortlessly replicate the rustic charm of wood shakes with the high-performance strength of stone-coated steel.
DECRA Shake XD provides the rustic tones and architectural details of hand-split wood shake roofs backed by the high-performance, low-maintenance and element-resistant strength of stone-coated steel.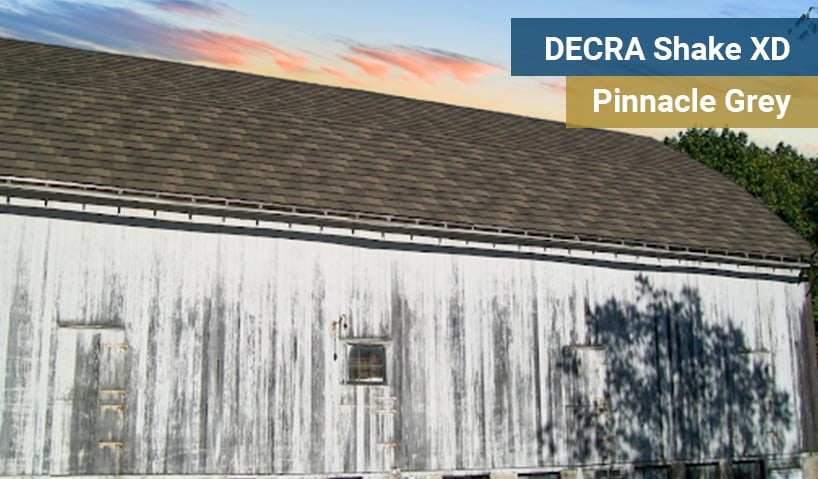 While cedar shake roofs provide distinct shadows and rich colors, the rustic beauty of cedar quickly fades to gray after exposure to the elements. DECRA Shake provides the classic elegance of rich cedar shake with the endurance and longevity that only stone-coated steel can provide.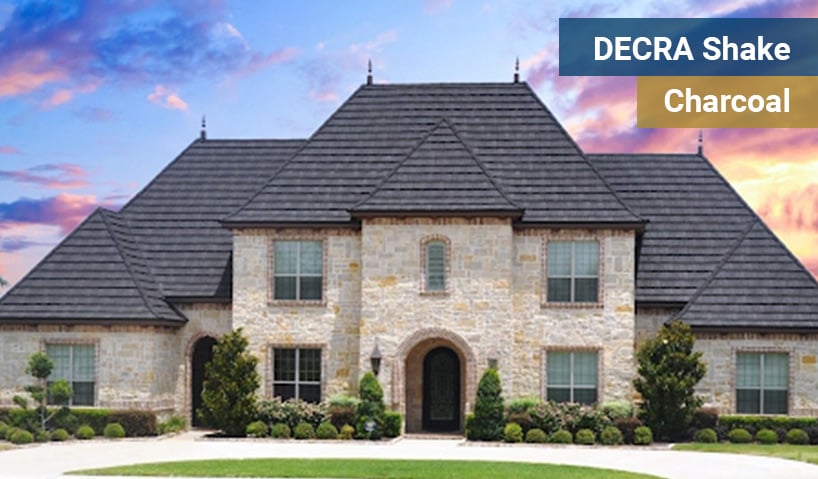 Now that you've seen the DECRA difference, are you ready to feel it? Request a complimentary sample of DECRA Shake XD or DECRA Shake today.

Editor's Note: This blog was originally published in September 2020, but has been updated with new information.