A quick Google search for the term roofing shingles will result in ambiguous definitions such as, "a type of roofing installation where the roof is covered with shingles." Not exactly a helpful definition, is it?
It's important to understand what is meant by the term roofing shingles before we dive into metal shingle roofing, so let's first clarify what roofing shingles are and why the term can be a bit confusing.
What are Roofing Shingles?
Historically, roofing shingles referred to a wood roof installed in an overlapping manner from the bottom to the top of a roof. This is still the case in regions where wood roofs are part of traditional architecture, such as Central and Eastern Europe.
Wood roofs were widely popular in the U.S. up until the early 1900s, but their popularity rapidly dwindled as modern and more durable roofing materials were introduced throughout the 20th century.
Today, the term roofing shingle is applicable to a wide variety of roofing materials including asphalt, metal, wood, clay and slate. While the roofing material may vary, roofing shingles are generally installed following the same guidelines, such as the fact that they can only be installed on buildings with pitched (aka sloped) roofs.
For example, in the U.S., one of the most common types of roofing shingles is a rectangular piece of asphalt that is applied from the base of the roof upwards, also known as asphalt shingle roofing.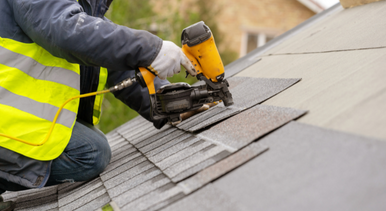 Outside of the U.S., the most common type of roofing shingle is a terracotta or slate tile that is installed in parallel rows using an overlapping technique, also known as tile shingle roofing.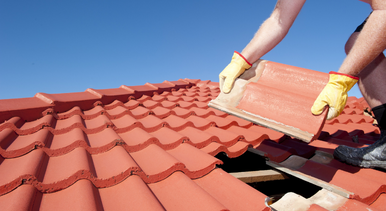 Hopefully, we've helped clarify that roofing shingles is a fairly broad term, encompassing a variety of roofing materials that are installed using a similar, overlapping technique on pitched roofs.
So, what is a metal shingle roof? Let's review what metal roofing is before diving into metal shingle roofing.
What is a Metal Shingle Roof?
Metal roofing is another broad term that refers to roofing products composed of various types of metal, including:
Aluminum roofing.
Standing seam roofing.
Corrugated roofing.
Copper roofing.
For more than a century, metal was the go-to roofing material for the industrial sector. Warehouses, factories and other industrial buildings took advantage of the many benefits of metal roofing, including:
Durability: Metal roofs are considered one of the most durable roofing materials on the market due to their ability to withstand the elements, and protect buildings from hurricane-force winds, hail, fire and more.
Longevity: Metal roofs last up to three times longer than traditional roofing materials, such as asphalt, tile or wood.
Low-Maintenance: Apart from the occasional removal of fallen leaves and debris after a heavy downpour, metal roofs require little-to-no maintenance.
>>>Related Resource: Explore 10 Things to Know About Metal Roofing
Today, metal roofing has expanded far beyond the industrial sector and is considered the second most popular roofing material.
The popularity of metal roofing surged when stone-coated metal roofing was introduced in 1957. Stone-coated metal roofing products provide the same benefits as industrial metal roofing products, but in styles, textures and colors that meet the aesthetic needs of homeowners.
Stone-coated metal roofing products start off as sheets of steel, just like industrial metal roofing products. During the manufacturing process, the steel sheets are "stamped" into roofing panels that replicate the shape and style of residential roofing products. Next, the roofing panels are coated with stone granules that provide the same texture, dimension and vivid colors of traditional roofing materials, such as asphalt shingles, clay tile or wood shake.
>>>Related Resource: Read About Stone-Coated Metal Roofing
So, what is a metal shingle roof?
A metal shingle roof replicates the appearance of asphalt shingle, tile shingle or wood shingle roofing. Metal shingle roofs give homeowners the best of both worlds: the style of a traditional roof with the industrial-strength durability of metal.

Metal Shingle Roofing vs. Asphalt Shingle Roofing
At the peak of their popularity, asphalt shingle roofs were used on more than 70% of homes in the U.S. One of the main reasons for their popularity was due to the fact that asphalt shingles are one of the cheapest roofing materials on the market. But homeowners have become increasingly aware that you get what you pay for, and cheaper isn't always better as there are serious shortcomings to factor in with asphalt roofing, including:
Lifespan: Traditional asphalt roofing materials have an estimated life expectancy of roughly 12-20 years, which is minimal when compared to metal shingle roofing which lasts two to three times longer.
Energy Efficiency: Asphalt shingles are one of the poorest performing roofing materials when it comes to energy efficiency. They absorb heat like a sponge and can radiate that heat down into the home below long after the sun goes down.
Environmental Impact: Asphalt contributes 11-13 million tons of waste to landfills each year, an amount that is equivalent to 3,068 Olympic-size swimming pools.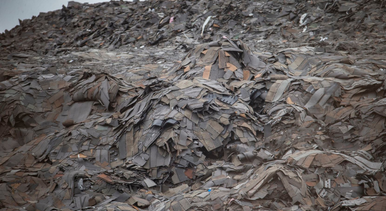 Asphalt "Shingle Mountain" in Dallas, TX: Source
Just as wood roofing was replaced by more modern and durable roofing materials in the 1900s, asphalt shingle roofing is consistently losing market share to metal shingle roofing products.
For example, metal shingle roofing products, such as DECRA Shingle XD, look extremely similar to asphalt shingle roofing products but come with the durability and longevity that only metal can provide.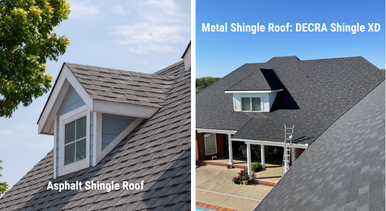 In addition to durability and longevity, homeowners benefit from the long-term value of metal shingle roofing as well. This includes:
Metal Shingle Roofing by DECRA Metal Roofing
As the original stone-coated metal roofing manufacturer, DECRA Metal Roofing products have withstood the test of time since 1957. Manufactured at our facility in Corona, California, we test all of our metal shingle roofing products above and beyond what is required to ensure the quality that DECRA is known for is present in each and every stone-coated metal roofing panel we produce.
Ready to see and feel the DECRA difference? Request a complimentary sample today.