While Colorado residents enjoy year-round sunshine, the intense winters can challenge the durability of most roofing materials.
The heavy snowfall in Colorado's mountain resort towns and high country regions make the state a top destination for skiing and outdoor winter activities, but shoveling snow off the roof and climbing frozen ladders to break up ice dams are two activities that most Colorado homeowners want to avoid.
Let's examine the climate conditions, design requirements and other factors to consider when searching for the best roofing material for Colorado homes.
Snow Loads and Ice Dams on Colorado Roofs
One of the most important climate conditions to consider is obvious: snow.
The historic ghost town of Climax, Colorado holds the state record for annual snowfall with 103 snow days dumping a total of 295 inches. With average annual snowfall numbers like these, homeowners should look for a roof that can handle heavy snowfall and the challenges that come with it.
| | | |
| --- | --- | --- |
| Colorado City | Average Annual Snow Days | Average Annual Snowfall |
| Aspen | 68.5 snow days | 170.8" total |
| Vail | 67.2 snow days | 189.2" total |
| Leadville | 59.3 snow days | 156.9" total |
| Steamboat Springs | 72.7 snow days | 184.5" total |
Where there is snow, there is ice, which can lead to ice dams.
Ice dams form when heat loss through the roof melts snow on the roof. The meltwater flows to the cold eave overhang where it refreezes. This ongoing process causes ice to build up and create a dam, eventually preventing upslope meltwater from draining off the roof. If proper ice dam protection is not provided, ponded water can back up under the roofing system and cause building leaks.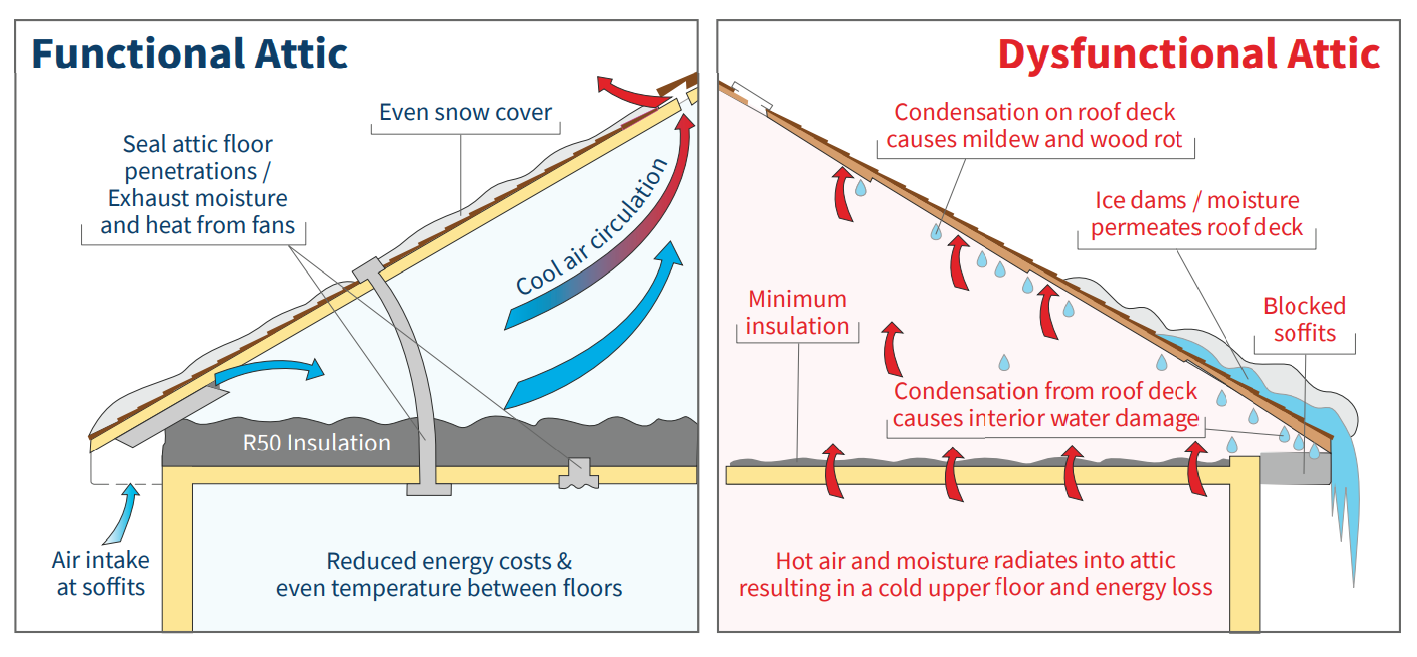 Ice dams can easily cause damage to traditional roofing materials such as asphalt, tile or wood–but they can damage more than just the roofing material, too.
Gutters contribute to ice dams when meltwater freezes and prevents additional meltwater from draining off the roof. Gutters can show obvious, visible damage as it happens when ice dams form and hazardous icicles soon get out of hand. That's costly enough to repair. But later on, when the spring thaw hits and everything expands, leaks from the ice-damaged roof deck and underlayments can put the entire interior of the building at risk and repair costs can quickly go "through the roof."
Metal roofing is one of the best materials for Colorado homes when it comes to preventing ice dams. This is because metal roofs keep the entire surface temperature consistent, resulting in the whole roof freezing at once. More importantly, the whole roof thaws at once, even at the overhanging eaves of the roof where ice dams easily form.
>>>Related Resource: Understand Ice Dams: Causes and Prevention.
But not all metal roofs are the same. Industrial metal roofing products, such as standing seam metal roofs, can provide excellent snow load and ice dam protection but may require snow guards as standing seam lacks a stone-coated granule causing it to become slick. Additionally, industrial metal roofing products lack the style and aesthetic appeal required for most Colorado homes.
DECRA's line of stone-coated metal roofing products can prevent ice dams while also providing a wide variety of profiles, colors and textures to suit the style of any Colorado home.
Stone-Coated Metal Roofing to Match Colorado Style-Homes
Architectural styles in Colorado lean towards rustic luxury and Alpine elegance. Modern home designs are growing in popularity as well, making design versatility an important consideration when choosing the best roofing material for Colorado homes.
DECRA's stone-coated metal roofing products are engineered to meet the design requirements of any style home.
>>>Related Resource: Read how stone-coated metal roofing provides the design versatility to suit the style of any home.
And that brings us to another high priority for environmentally-conscious homeowners in Colorado–sustainability.
Sustainable Roofing for Colorado Homes
"Metal roofs are 100% recyclable at the end of their life as a roof. In contrast, most [asphalt] shingle tear-off waste ends up as part of the building-related waste stream — up to 20 billion pounds per year." – State Farm: Advantages of Metal Roofs
When it comes to sustainability, durability and environmental impact, metal roofing is tough to beat.
For example, DECRA metal roofs have a lifespan that is two to three times longer than traditional roofing materials like asphalt shingles. Traditional asphalt roofing materials have an estimated life expectancy of roughly 12 to 20 years. Frequent replacement of the roof (and the need to completely tear off and dispose of old asphalt shingles to keep roof weight within building code limits) can be expensive and negatively impact the environment.
Additionally, as one of the lightest roofing materials available, DECRA roofs often eliminate the need to tear off the existing asphalt shingle roof, helping divert asphalt shingle waste from piling up in local landfills.
Metal roofs are also one of the most energy-efficient roofing materials available. In fact, a DECRA roof is so energy efficient it can save Colorado homeowners up to 25% on their heating and cooling costs.
>>>Related Resource: Learn more about the energy efficiency of DECRA Metal Roofs.
DECRA Metal Roofing for Colorado Homes
From commercial to residential roofs, DECRA Metal Roofing provides the sophisticated style required to enhance any Colorado home and the strength of stone-coated steel to withstand nearly anything Mother Nature has to offer including hail, fire, wind and snow.
Whether you prefer a rustic, classic or modern design, DECRA offers a number of styles to suit your needs. Order a complimentary sample today to see and feel the difference a DECRA roof makes.