Major changes are coming across the atmosphere and the oceans due to a climate cycle called La Niña.
As described by NOAA, La Niña brings cooler ocean surface temperatures to the east-central equatorial Pacific. Since the atmosphere and the ocean are closely intertwined, La Niña cycles bring severe thunderstorms, hail and high-velocity winds that can intensify hail impact damage on roofs.
The image below from NOAA Climate shows a comparison of hailstorm events during El Nino and La Niña seasons. You'll notice that during a La Niña season, there is a substantial increase in hail events.

Without any help from La Niña, 60% of all severe weather insurance claims are attributed to hail damage. Given the La Niña forecast for this year, contractors should prepare for a surge in customers with hail damage.
While the surge in severe hail events is a boon for business, supply chain issues can wreak havoc on timelines and budgets.
Keep reading to learn how to prepare for the 2022 hail season, plus how to mitigate supply chain challenges.
Supply Chain Issues and Hail Season
Last year, the roofing industry experienced major supply chain disruptions–and we're still feeling the aftershock of those disruptions in 2022. With uncertainty about price stability, product shortages and longer lead times still lingering, roofing contractors will want to prepare well in advance of this year's hail season.
"With 5,000 major hail storms per year in the US, roofing professionals should be prepared for a long waitlist. Hail-affected customers will be calling in with urgent roof repair requests. Your business has to be ready for this with sufficient staff and equipment to service them quickly. Plan in advance, as these requests will come on top of regular roof replacements jobs you have already agreed to take on." –Roofing Repair Checklist
Asphalt shingles have been especially hit hard by supply chain issues since some are reliant on overseas imports.
Homeowners need to understand up front that the roofing industry is facing some unique challenges. It will be critical to proactively communicate to customers that roofing projects may be subject to delays and price increases that are beyond the contractor's control.
>>>Related Resource: Read the 2022 Roofing Industry Supply Chain Forecast.
To keep the backlog list down and finish your jobs on time and on budget, roofing contractors can mitigate some of the supply chain issues by offering hail-resistant roofing products that aren't manufactured overseas.
For example, DECRA Metal Roofing products are manufactured in Corona, California. Our fully-stocked warehouses are strategically located throughout the U.S. and products are ready to ship after receiving a purchase order.
Hail-Resistant Roofing Products
Durability and longevity are essential components of a hail-resistant roofing product. These are other critical components to educate homeowners on when choosing a hail-resistant roof:
Class 4 rating for hail impact. Roofing materials are rated Class 1 through Class 4 based on their resistance to the impact of steel balls dropped from varying heights. A UL2218 Class 4 Impact Rating is the highest possible rating for impact resistance. All DECRA Metal Roofing products have achieved the highest UL2218 Class 4 Impact Rating.
Lifetime Limited Warranty. First and foremost, make sure the manufacturer has been in business for a while. A warranty means nothing if the manufacturer goes under. Additionally, you'll want to advise homeowners to read the fine print. Some manufacturer's warranties fail to cover any type of hail damage while others offer a "lifetime" warranty that is prorated, so the roof may only be warrantied at 30% value in just a few years. DECRA provides a Lifetime Limited Warranty for all of its products, so homeowners can have peace of mind knowing their roof comes standard with one of the most comprehensive warranties in the industry.
But where there is hail, there is also wind.
Hail can't form without the powerful wind updrafts of a supercell thunderstorm. The more powerful the winds, the larger the hail. In addition to the Class 4 impact rating, be sure to educate homeowners on the importance of wind resistance in a hail-resistant roofing product.
For instance, DECRA roofs also have one of the highest wind uplift ratings on the market thanks to a proprietary interlocking and overlapping installation method. The superior wind resistance of DECRA roofs meet the high-velocity hurricane zone requirements of Miami-Dade, Florida, which has the strictest building codes in the U.S. Additionally, DECRA roofs have a unique interlocking system with high-strength fasteners that help the profiles remain firmly in place and are backed by a Lifetime Limited Warranty for winds up to 120 miles per hour and hail penetration up to 2.5" in diameter.
>>>Related Resource: Explore 10 things to know about metal roofing.
How to Sell Hail-Resistant Metal Roofing
Homeowners who've had to replace a hail-damaged roof do not want a repeat experience.
Traditional roofing materials such as asphalt shingles, clay tiles, and wood shakes require ongoing repair and replacement–add hail conditions to the mix, and traditional roofs often don't stand a chance.
This makes for an easy upsell to a hail-resistant roofing product, such as metal roofing.
Known as one of the most durable and longest-lasting roofing materials on the market, metal roofing checks all of the boxes when it comes to a hail-resistant roof.
For example, DECRA Metal Roofing products come standard with:
✔ Highest Class 4 impact rating.
✔ Lifetime Limited Warranty for hail penetration up to 2.5" in diameter.
✔ Lifetime Limited Warranty for wind up to 120 mph and lab tested at twice that velocity.
And while the initial investment in a metal roof is slightly higher than traditional roofing materials like asphalt, the ROI is substantially higher thanks to the durability, longevity and performance of metal roofing products.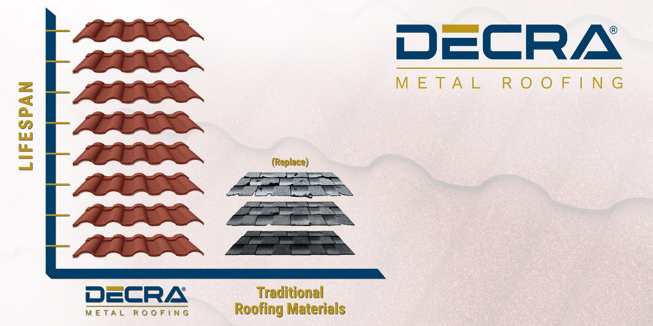 The durability of metal results in a lifespan that lasts two to three times longer than traditional roofing materials like asphalt, clay tile and wood.
As described by MRA, "To put it in context, the average lifespan of an asphalt roof is 12 to 20 years. That lifespan can be shorter depending on the pitch of your roof and the climate in your area. Made of oil impregnated paper or fiberglass, asphalt begins to deteriorate as soon as you expose it to normal weather. A metal roof, however, will never decompose."
Other ROI-boosting benefits of metal roofing include:
Insurance Discounts: Metal roofs can qualify for insurance discounts in many states. For example, in Texas, a metal roof can lower your homeowner's insurance by up to 35%. (Check with your local insurance carrier for available discounts).
Energy Savings: Metal roofs can reduce cooling costs by up to 25%.
Increased Property Value: A new metal roof can increase the average value of a home by up to 6%.
The benefits of hail-resistant metal roofing aren't limited to just homeowners.
Rapidly growing in demand, metal is the second most popular roofing material on the market, and, in many areas, homeowner demand for metal roofing exceeds the supply of qualified installers. By adding DECRA to your service offerings, you'll tap into this rapidly growing market of homeowners and position your business as an installer of premium products. The best part? Installing DECRA Metal Roofing is easy.
Easy to install DECRA Metal Roofing products provide the highest possible Class 4 Impact Rating without special underlayment or equipment.
No special skills or tools are required for experienced roofing professionals to install a DECRA roof. DECRA's interlocking panels can be cut with convenient hand snips or a metal cutting blade.
DECRA roofing weighs in at 1.6 pounds per square foot and is one of the lightest roofing materials available.
If the roof deck and existing underlayment haven't been damaged by the hail strike, lightweight DECRA roofs can eliminate the need for complete asphalt shingle roof tear-offs.
No "extra nails" are required. DECRA metal roofs are installed with the highest quality DECRA screw fasteners, providing superior impact and wind uplift resistance.
Ready to get started?
Get Started with Hail-Resistant DECRA Metal Roofing
Come hail or high weather, DECRA Metal Roofing products are engineered to withstand nearly anything Mother Nature has to bring.
The quality of our products is matched by our commitment to operational excellence and customer service. Our roofing experts are here to support your business through this year's hail season–and beyond.
Get started with DECRA Metal Roofing by joining our network of qualified metal roofing installers.