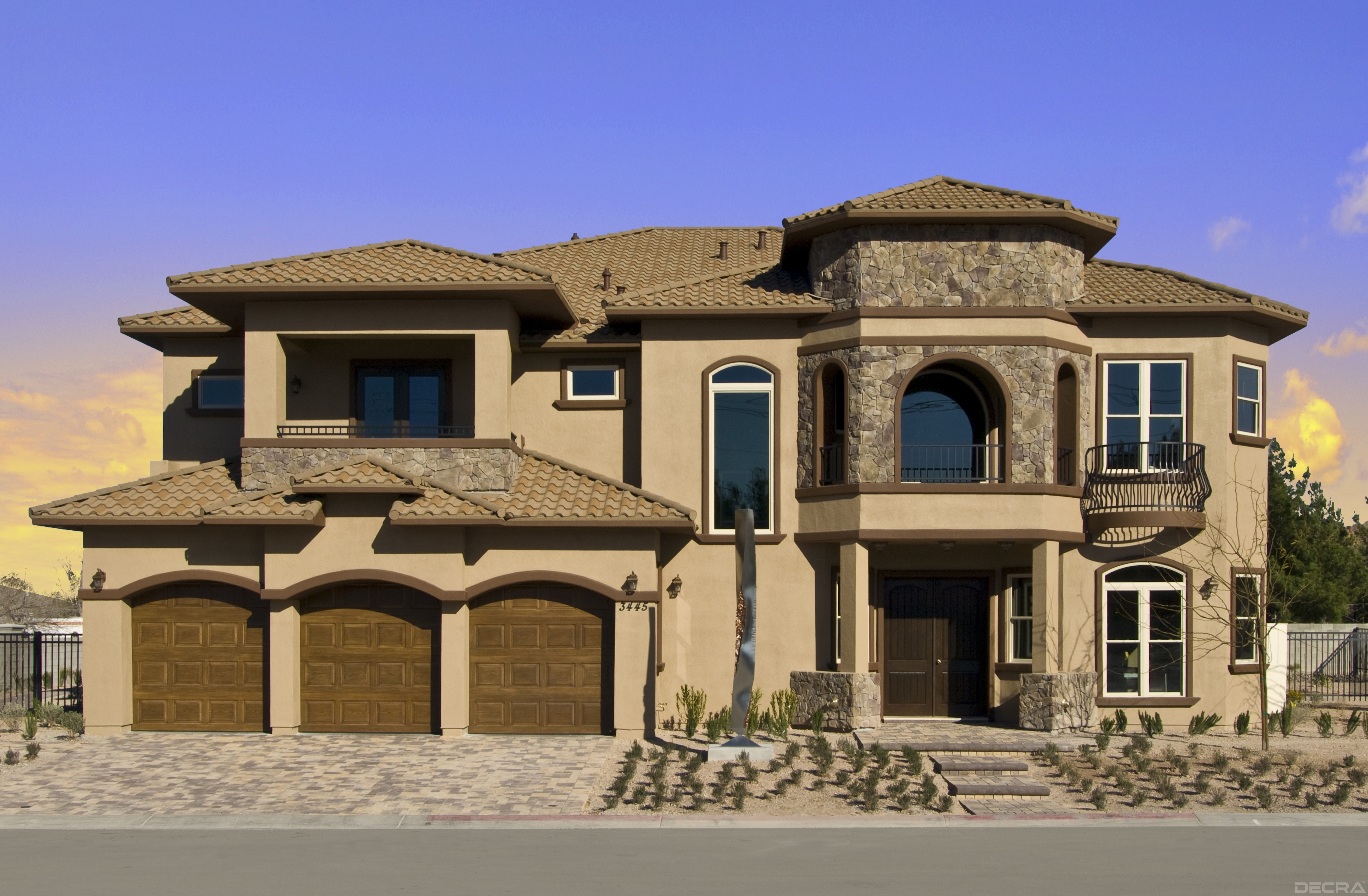 Increase Home Value and Curb Appeal With DECRA Metal Roofing
How Any New Roof Can Improve Home Value
Even the best conventional roofs will require replacement, some as frequently as every 10 to 20 years. An old roof can definitely become a pain point for potential buyers when it's time to sell the home. According to a recent report at Remodeling Magazine, an upscale roofing replacement can provide returns of up to 56.7%, and mid-range homes can look forward to a 62.9% return when balancing cost versus value. Those numbers alone convert a pain point into an attractive selling point.


Replacing the roof provides a return on investment and an increased home value that ranks right up there with extensive improvements such as a major kitchen remodeling job or even a garage or family room addition. Even lower range homes can average a $12,000 increase in value with a new roof, and bear in mind that these are the numbers for old-school conventional roofing materials with very limited warranties and lifespans.
Limited Returns With Conventional Roofing
Conventional roofing with wood shakes, clay tile, and asphalt shingles are all prone to wear and tear from exposure to the elements. Clay tiles are elegant but they fracture easily from simply walking on them or under hail and storm debris impact. Wood shakes turn gray without chemical protection and repeated wet/dry cycles trigger expansion and contraction stresses which cause cupping and splitting. Even the best wood shakes are prone to loosening around the fasteners which increases the chance for wind uplift.


Asphalt shingles blister and delaminate even in dry sunny climates. In regions with seasonal extremes, shakes and shingles alike are vulnerable to cupping and curling due to age. A condition known as "fish mouthing" in asphalt shingles can occur with inadequate attic venting and building moisture. While these legacy roofing materials can boost home value when brand new, conventional roofing products offer little in the way of returns on investment which continue for the lifetime of the building. Instead, they ensure a recurring maintenance cycle involving time, labor, and material expense.
Conventional Metal Roofing: Compromising Beauty For Durability
A practical contemporary metal roof can increase home value by up to 6%. Homeowners can look forward to recouping an average of 85.9% of the cost of a durable new metal roof. The problem is that bland metal roofing frequently stands out like a sore thumb on an otherwise stately home. Here we're talking about a very basic standing seam roof which does little to enhance curb appeal or sophisticated architectural themes. Standing seam or large panel metal roofing might be viable options for mid to low range projects, but the utilitarian appearance and lack of dimensionality, color, and texture can actually disrupt the curb appeal and reduce the value of the most sophisticated and elegant homes at the upscale end of the real estate spectrum.


DECRA metal roofing products are changing all that, blending durability with architectural elegance in a full range of products which can replicate the classic curb appeal of shakes, asphalt and architectural shingles, and clay or slate villa tiles to complement the most challenging architectural themes for sophisticated, informed homeowners who will settle for nothing less than the best roof available.
DECRA Eliminates Future Roof Replacement Costs: The Gold Standard of Metal Roofing
If old-school conventional roofing with its recurring maintenance costs can enhance the value of a home imagine how much value is added by a one-and-done roofing solution with a transferable warranty to last a lifetime. That's exactly what DECRA metal roofing profiles offer, blending the best durability characteristics and energy-efficient benefits of metal roofs with the elegance and beauty of traditional roof designs. With DECRA metal roofs, homeowners can check future roof maintenance and costly roof replacements off of their list of concerns.


DECRA roofing materials are warrantied for wind resistance up to 120 mph and rigorously tested at twice that wind velocity to provide a 100% safety margin. Hail is no match for DECRA's multi-layered steel which is UL2218 certified with the highest Class 4 impact resistance. That's why DECRA roofs are backed by the most comprehensive lifetime warranty in the industry, setting the gold standard for roofing quality that has yet to be surpassed by any of our many imitators.
Elegant DECRA Metal Roofs Enhance Curb Appeal
The roof is one of the most prominent features on any stately home and sellers only get one chance to make a first impression. DECRA Metal Roofing products offer the full range of stone-coated colors and textures to augment the most elegant architectural themes for maximum curb appeal. Missing shingles or cupped and curled shakes can make the most elegant home look shabby and can even result in a lower appraisal. DECRA roofs are extremely lightweight so a roofing upgrade can often be accomplished without requiring a complete (and costly!) tear-off of the existing roof.
DECRA Roofs Qualify For Insurance Discounts
DECRA roofing systems use a unique interlocking panel system and the unbeatable strength of steel which results in durability which can withstand all of the elements in any region. DECRA roofs qualify for insurance discounts in many states with the highest performance ratings including:
Class A Fire Resistance
Freeze and thaw resistance to snow, sleet, and ice
Class 4 Impact Resistance with no warranty limit on the size of hail

(unlike many conventional roofing manufacturer warranties)

Wind warranty up to 120 mph

. Asphalt shingles are warrantied for just 60-110 mph, and warranties are easily voided if the manufacturer decides that installation procedures haven't been strictly followed. Many wood shake and clay tile roofing products aren't warrantied for wind resistance at all.
Energy Savings For a Lifetime With DECRA
Metal roofs have always been the most energy-efficient choice of available roofing materials. Homeowners who have upgraded to metal roofing report energy savings as high as 20%. DECRA stone-coated metal products reflect solar energy and re-emit up to 90% of absorbed solar radiation to reduce cooling costs. That's a major improvement over asphalt shingle roofs which continue to emit absorbed heat into the house long after the sun has set. For maximum energy efficiency DECRA metal roofing can be installed on battens, a grid of wood or metal strips which creates an insulating air space between the roof and the underlying deck. Hot air is able to circulate up and away from the house, escaping at the ridge vents. In winter weather, the airspace provides an extra insulating layer.
Sophistication, Durability, and a Lifetime of Savings With DECRA Metal Roofing
The age of compromise for residential metal roofing is all in the past for DECRA homeowners, architects, and roofing professionals. Today, DECRA roofing products provide ageless beauty with unmatched strength and durability that can enhance the value of any home, all backed by the best Lifetime Limited Warranty in the roofing industry.


While we have many overseas imitators none have been able to match the beauty and durability of DECRA, the original innovator of stone-coated metal roofing made right here in the U.S. Our product quality is matched only by our operational excellence. With fully stocked warehouses around the country, DECRA is the only metal roofing manufacturer in the U.S. that is able to ship in just 72 hours after receiving your purchase order. You can learn more about DECRA products for your home at DECRA Metal Roofing.