You know how it is living in Tennessee: one minute it's raining cats and dogs, and the next, you're sweating buckets. But, as most residents of the Tri-Star state are accustomed to saying, "If you don't like the weather, wait five minutes or drive five miles."
In 2022, Tennessee ranked as the fourth rainiest state in the U.S. while also breaking multiple heat records. Factor in the eastward migration of Tornado Alley, along with an uptick in tornado occurrences and intensity, and it becomes clear that homes in the Volunteer State require a roof that is tough–#TennesseeTough (go Titans!).
Keep reading to know what to look for when in search of the best type of residential roofing for Tennessee, including:
Weathering the Storm: Roofing that Withstands Storms, Hail and Tornadoes
Tennessee is part of Dixie Alley, a region prone to severe thunderstorms, rain, strong winds, hail, and lightning. Tennessee also faces a growing threat from tornadoes, as Tornado Alley continues to expand eastward.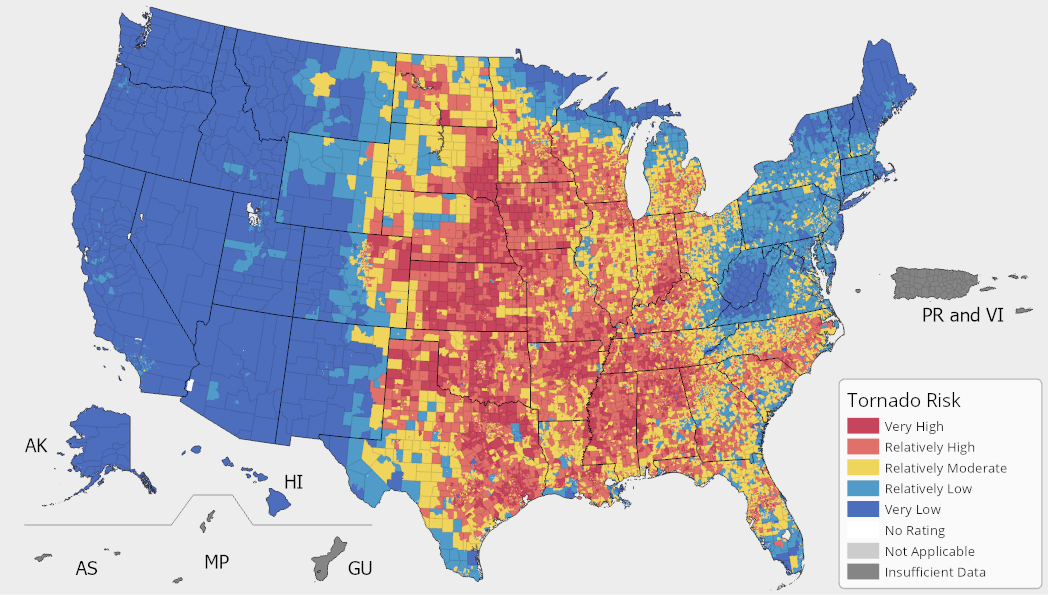 Source: fema.gov
For Tennessee residents, finding a roof that is durable, long-lasting, and storm-proof is critical to withstand the range of extreme weather events that impact the state.
Here are key qualities to look for when evaluating different residential roofing materials for your home.
Storms, Tornadoes, and High Winds
Choose a roof that is approved for use in Florida's High-Velocity Hurricane Zones (HVHZs). Florida has the strictest building codes in the country, and building products approved for HVHZs, including roofing products, have undergone intense testing to ensure their ability to resist hurricane-force winds. Even though Tennessee is a long way from Florida, a roofing material that is approved for HVHZs means that you have top-tier protection from high winds.
Hail
Where there are thunderstorms, there's often hail. To ensure your roof can withstand the impact of hail or wind-driven debris, look for a roofing material that has been certified with the highest Class 4 hail impact rating.
Lightning
Thunderstorms bring more than just hail–lightning often comes along for the ride, too. If your home is located in a region prone to lightning strikes, look for a non-combustible roofing material that has been certified with the highest Class A rating for fire resistance. For example, metal roofing is ideal for lightning-prone regions due to its conductivity and non-combustible nature.
Heatwaves and Cold Fronts: Roofing for Tennessee's Temperature Swings
The humid subtropical climate of Tennessee results in plenty of sunshine, which can fade and degrade low-quality roofing materials. Tennessee is also known for its extreme temperature swings: daytime highs can soar to over 100 degrees, only to plummet to the 50s in the evening.
These drastic temperature fluctuations can cause the roofing material to repeatedly expand and contract as temperatures rise and fall. Roofing materials that can't endure repeated expansion and contraction cycles will often develop cracks and leaks.
To combat the constant exposure to the sun and extreme temperature fluctuations, look for a residential roofing material that:
Reflects heat from the sun up and away from the home.
Is flexible enough to endure the constant contraction and expansion of severe temperature fluctuations.
Is durable enough to resist degradation after prolonged exposure to UV rays.
It's also wise to look for a roofing material that is energy efficient since cooling costs add up quickly during hot and humid Tennessee summers.
Southern Charm: Roof Styles that Align with Tennessee Style
In Tennessee, most residential properties fall into one of three architectural styles:
Colonial: Often seen in suburban neighborhoods, Colonial-style homes have a traditional blend of brick facades, symmetrical designs, and pitched roofs.
Ranch: Rustic ranch-style homes and rural barndominiums of Tennessee are designed for practical, easy living.
Craftsman: Characterized by exposed beams and extensive use of wood, Craftsman homes typically feature low-pitched roofs, wide eaves, and front porches.
Unfortunately, the types of roofing materials that look good with these architectural styles often lack the durability required for Tennessee weather. For example, asphalt shingles may look good on Colonial-style homes, but they have one of the shortest lifespans of any roofing material and need to be replaced as often as every 12 years.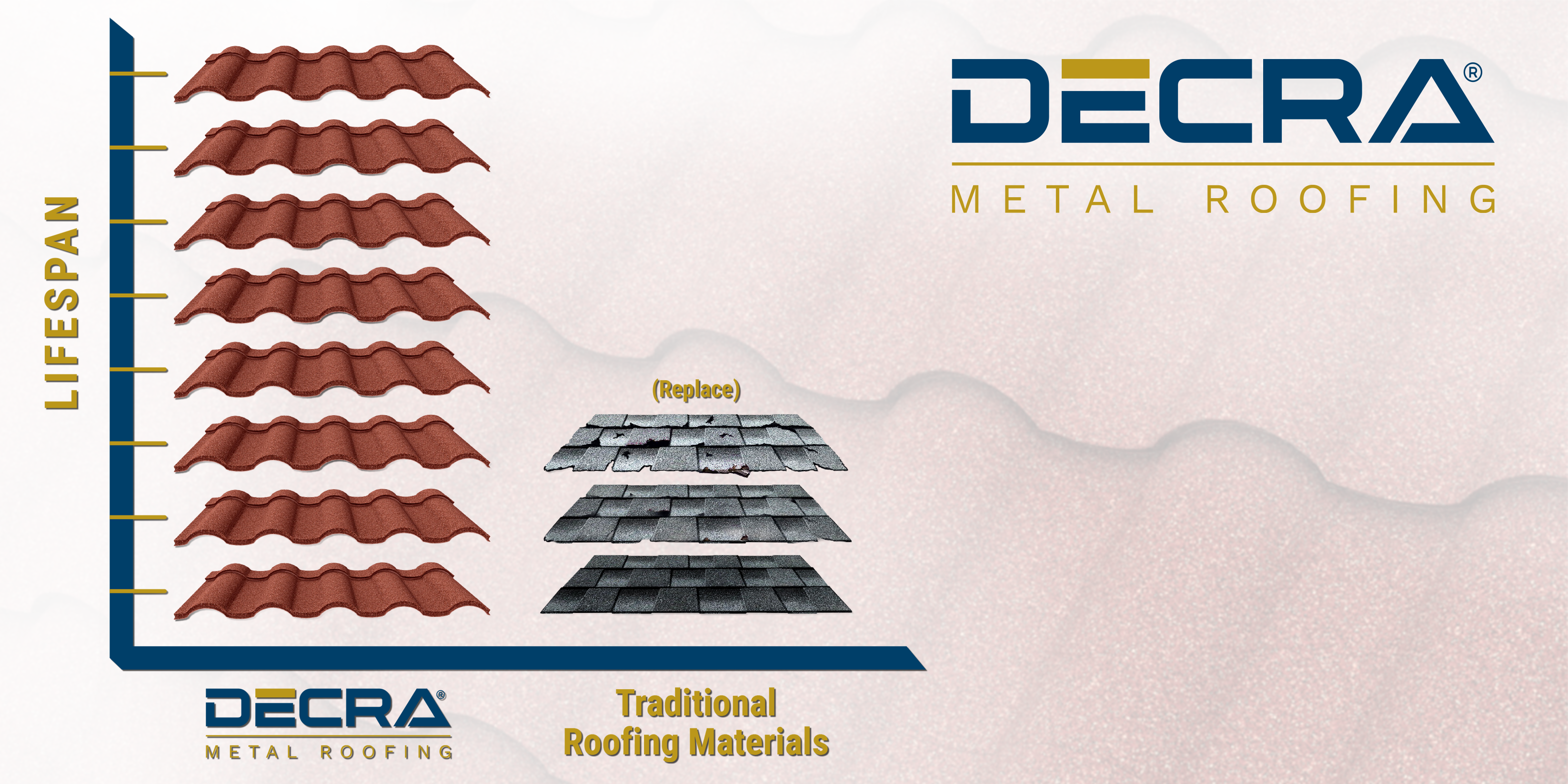 And while wood shakes provide the rustic aesthetics required for ranch and craftsman-style homes, they require frequent maintenance and quickly fade to gray after exposure to the elements.
Finding a roofing material that fits both the architectural style of your home and offers long-lasting durability can be tough. However, there is one roofing material that provides the durability, longevity, and style that Tennessee homeowners are looking for: stone-coated metal roofing.
Stone-coated metal roofing is well-known as one of the most durable, longest-lasting, energy-efficient types of roofing. In fact, metal roofing has withstood the test of time and industrial buildings have benefited from its many advantages for more than a century.
But unlike industrial metal roofing or standing seam metal roofing, stone-coated metal roofing provides industrial strength without industrial appearance.
During the manufacturing process, natural stone granules are adhered to high-grade steel sheets. This results in a roofing material that achieves the same aesthetics as traditional roofing materials–such as asphalt shingles, clay tiles, and wood shakes–backed by the high-performance strength of steel.
Ready to see the stone-coated metal roofing in action?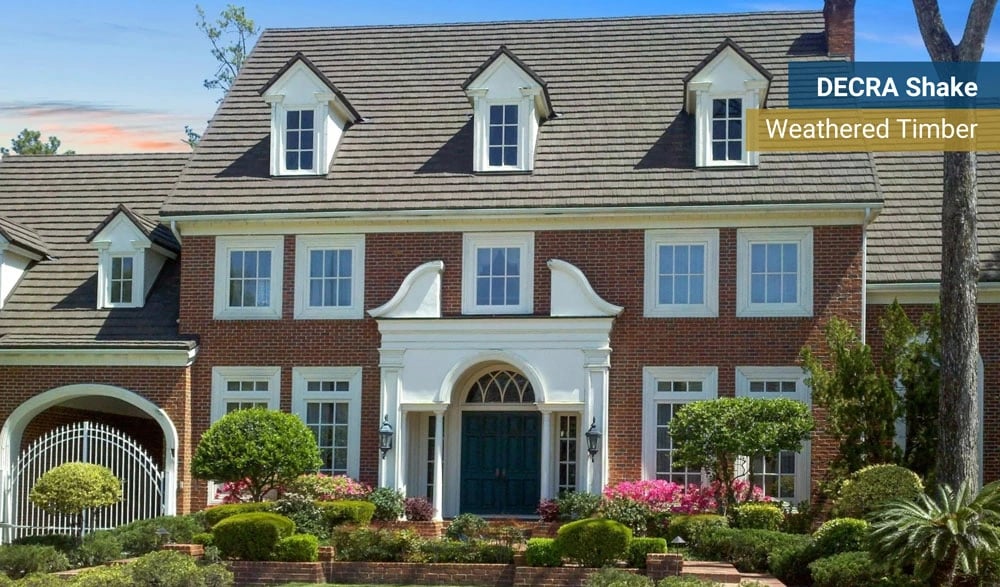 Craftsman-style home in DECRA Shake.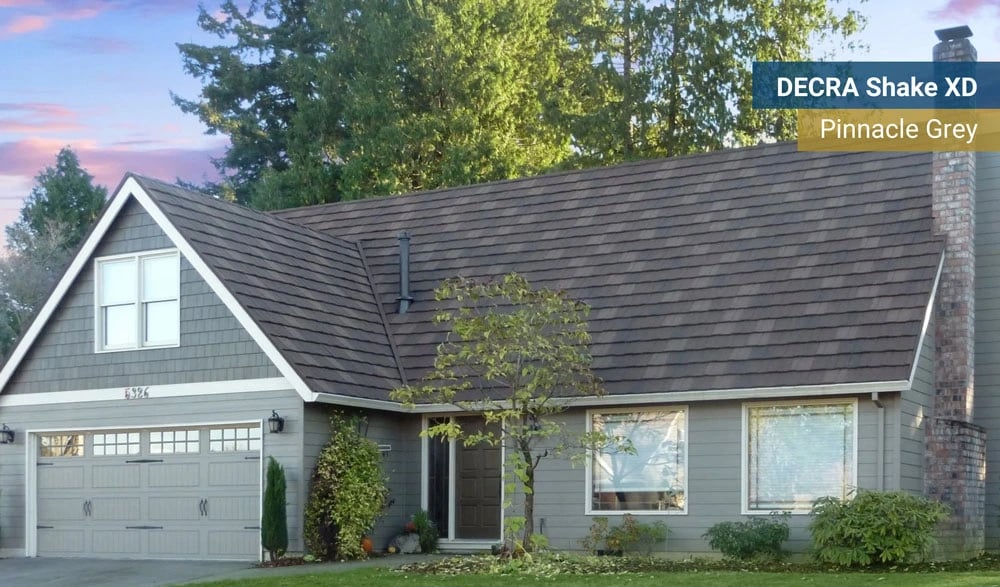 Ranch-style home in DECRA Shake XD.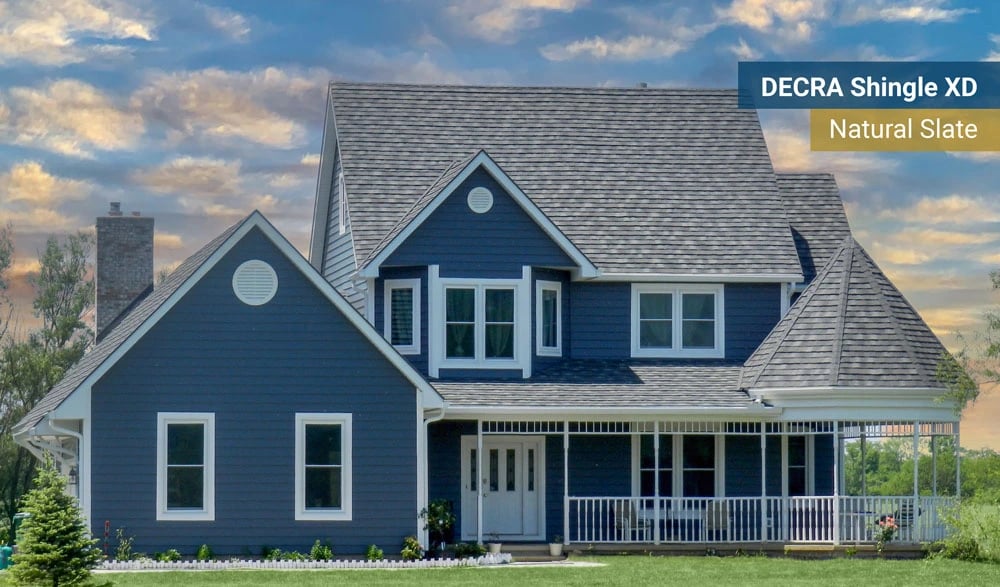 Craftsman home in DECRA Shingle XD.
About DECRA Metal Roofing
DECRA Metal Roofing products are designed to bridge the gap between industrial durability and architectural beauty.

As the original stone-coated metal roofing manufacturer, DECRA Metal Roofing products have withstood the test of time since 1957. Manufactured at our state-of-the-art facility in California, DECRA metal roofs are tested above and beyond the requirements to ensure the quality that DECRA is known for is present in each and every stone-coated metal roofing panel we produce.
If you're looking for a roof that is tough enough for Tennessee without sacrificing on style, then you're looking for a DECRA metal roof.
Ready to see and feel the DECRA difference? Order a complimentary sample today.