The roof is your home's first line of defense against the elements, so when searching for the best roofing material, you'll want to evaluate several characteristics to determine which is best for your home, region and priorities.
Here is what homeowners should consider when determining what roofing material is the best for their project:
Let's get into it.
Types of Common Roofing Materials
Asphalt Shingles
Asphalt shingles are often selected because they are the cheapest. However, they need replacing as often as every 12 to 20 years, and sooner in harsh climates. As a petroleum-based product with poor energy efficiency, asphalt shingles are ideal for budget or value-priced roofing projects where longevity and performance aren't a priority.
Clay or Concrete Tile
Ideal for Mediterranean or Spanish-style buildings, clay tile roofs are made from molded clay or terracotta, then baked at a high temperature. Tile roofs can also be made from concrete. While tile roofs are beautiful, they are extremely delicate. Just walking on a clay tile roof for routine maintenance can cause damage. Additionally, as one of the heaviest roofing materials, clay and concrete tiles may require additional construction to support their weight.
Metal Roofing
Metal roofs can be made from a variety of different metals, including aluminum and steel. Metal is the second most popular type of roofing material due to its durability and longevity. While it is slightly more expensive than asphalt roofs, it lasts two to three times longer and is also one of the most energy-efficient, sustainable and versatile roofing materials. For instance, stone-coated metal roofing provides vivid colors and distinct textures that replicate the look of asphalt shingles, clay or concrete tiles, or wood shake without sacrificing durability or longevity.
Wood Shingles and Shake
Pre-dating asphalt shingles, wood shingles were once the most commonly available roofing material. Today, the only viable reason for a wood roof is aesthetics, perhaps to enhance a rustic or historically-themed design, given the long list of issues and shortcomings in performance with wood. Wood roofs require constant maintenance and a variety of chemical treatments to extend the life cycle.
Which Roofing Material Lasts the Longest?
When it comes to roofing materials, cheaper isn't better. Take asphalt shingles, for instance. Although the initial installation is cheaper, asphalt shingle roofs need to be replaced faster than other materials. With frequent exposure to the elements, the lifespan of asphalt shingles can be even shorter. If you have to replace your roof every decade or so, you'll wind up paying more in the long run.
Here's how asphalt shingles, clay or concrete tile, metal and wood roofs stack up when it comes to longevity: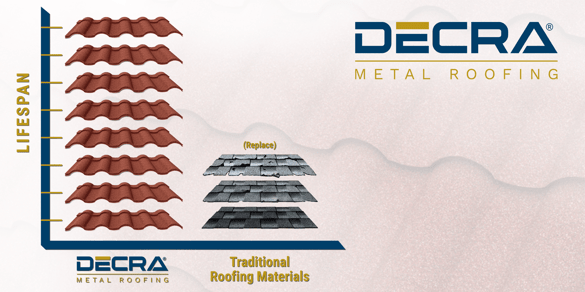 Sources: State Farm and The Spruce
Which Roofing Material is the Most Durable?
The roof is the first line of defense when it comes to protecting your home, so you'll want to evaluate how a roof performs against the climate conditions that frequent your region. For instance, homes in Hawaii need a corrosion-resistant roof that can also withstand high winds, heavy rains, wind-driven rain and humidity. Homes in hail-prone regions require a Class 4 hail impact rating and homes in snow-prone areas, such as New England, require a roof that is resistant to repeated freeze and thaw cycles.
When durability is a priority, look for a roofing material that checks all the boxes below:
Additional Features to Consider
Since every roofing project is different, you'll want to prioritize certain features when searching for the best roofing material based on the goals and expectations of your project.
Energy Efficiency: Metal roofs are one of the most energy-efficient roofing materials because they reflect heat up and away from buildings. Think about the metal hood of a car. Even with the sun's heat from above and the engine's heat below, the metal hood quickly cools once the car is parked and the engine is off. Within minutes, the heat from the metal hood has dissipated and the car feels cool to the touch. Additionally, homeowners can reduce cooling costs by up to 25% with a metal roof. Asphalt roofing, on the other hand, absorbs heat like a sponge and will radiate that heat down into the home.
Sustainability: The demand for energy-efficient, sustainable and environmentally-friendly products is at an all-time high–and roofing products are no exception. Not only is metal 100% recyclable, but the long lifespan of metal roofing also eliminates the need and the waste from frequent roof replacements. For example, since asphalt shingles need to be replaced as often as every 12 years, they contribute 11-13 million tons of asphalt shingles to landfills each year (equivalent to 3,068 Olympic-size swimming pools).
Weight: Weight is often overlooked when choosing a roofing material, and many homeowners are surprised to learn that heavier is not better when it comes to roofing. Metal roofing is one of the lightest roofing materials on the market. The lightweight characteristics of metal benefit homeowners by:
Providing an exceptional strength-to-weight ratio that adds reinforcing shear strength to the roof deck, which is especially important in hurricane and earthquake-prone regions.
Eliminating the need for additional reinforcement or construction to support the weight of the roof.
Low-Maintenance: No homeowner wants their property constantly "under construction." Some roofing materials require ongoing maintenance and treatments, so unless you want roofing crews and power tools to frequent your roof, look for a roof that requires little-to-no maintenance.

Warranty: A comprehensive and straightforward warranty shows the roofing manufacturer is confident in the quality of the product. Look for a roof that comes standard with a Lifetime Limited Warranty and be sure to read the fine print. Bonus points if the warranty can be transferred to new owners should you decide to sell your home.
Experience the DECRA Difference
When searching for the best roofing material, it's hard to beat the durability, longevity and design versatility of stone-coated metal roofing.
As the original stone-coated metal roofing manufacturer, DECRA Metal Roofing products have withstood the test of time since 1957. Manufactured at our facility in Corona, California, our products are tested above and beyond the requirements to ensure the quality that DECRA is known for is present in each and every stone-coated metal roofing panel we produce.
Ready to see and feel the DECRA difference? Click here to order a free sample.