In the 1980s, black asphalt roofs were all the rage. But by the mid-90s, homeowners began gravitating toward brown and gray shingles, largely influenced by the desire to mimic the high-end (and expensive) appearance of wood shake roofs. As a result, black roofs fell out of style.
Fast-forward to today, and black roofs are back in style as modern homeowners opt for distinctiveness rather than conformity–especially among younger homeowners seeking a more modern look.
And while black is back in residential roofing, asphalt shingles are not.
Metal roofing has quickly taken over the residential roofing market as awareness continues to grow about its longevity, durability, energy efficiency, and design versatility.
Market data substantiates this trend, showing metal roofing's market share expanding from 12% in 2019 to 18% in 2022. Much of this growth comes at the expense of petroleum-based asphalt shingles, indicating a substantial shift in homeowner preferences toward more modern, durable and sustainable roofing materials.
Video Source: Drone footage from Johnny Shaw with SPC Construction and Roofing in Frisco, Texas
If you're considering a black metal roof, you're definitely not alone. To help you decide if a black metal roof is right for your home, we've compiled the top three questions we receive from homeowners intrigued by this color trend.
Are Black Metal Roofs Hotter than Other Types of Roofs?
It makes perfect and logical sense to assume that a black metal roof will be hotter than other types of roofing materials. But this is one of those myths about metal roofing that is in fact, a myth.
Metal roofs are actually one of the most energy-efficient roofing materials, thanks to the inherent reflectivity and emissivity of metal.
Reflectivity
Metal is inherently reflective. In the context of roofing, this means that a metal roof will reflect heat up and away from the home. Cheap or low-quality roofing materials, such as asphalt shingles, have extremely poor reflectivity and will absorb and retain heat like a sponge.
Asphalt shingles retain so much heat that their temperature can spike up to 60 degrees higher than the surrounding air. For example, asphalt shingles can reach 140 degrees on an 80-degree day when exposed to direct sunlight.
Metal roofs, on the other hand, reflect up to 70% of the sun's energy back up into the atmosphere and can save homeowners up to 40% on cooling costs. In fact, a 2019 study showed that stone-coated metal roofing increased energy efficiency by up to 48.7% compared to asphalt shingles.
Emissivity
The conductive properties of metal make it extremely efficient at emitting heat. This means that when a metal roof is exposed to sunlight, the heat is rapidly dispersed across the metal surface before being released back into the atmosphere.
The way metal roofs are installed also contributes to their energy efficiency.
Installation
A well-ventilated roof allows hot air to escape while facilitating the flow of cooler air to enter underneath. Roofs that are installed on battens create a critical air gap between the roof deck and the roofing material that will keep the home cooler.
This airspace is essential for keeping the home cool and preventing heat from building up in the attic. And since metal roofs can be installed using battens, cool air is able to easily flow under the roofing material.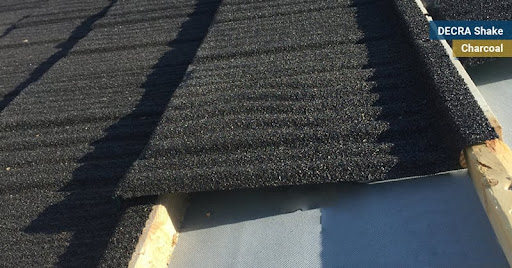 So, to answer the question, "Are black metal roofs hotter than other types of roofing?" The answer is no. Metal roofs in any shade or color are your best bet for energy efficiency and keeping your home cooler due to the inherent properties of metal.
If energy efficiency is a top priority, stone-coated metal roofing is often the best choice. Stone-coated metal roofs have infrared pigments that re-emit up to 90% of solar radiation back into the atmosphere, a performance acknowledged by the U.S. Department of Energy.
Do Black Metal Roofs Work Well with Solar Panels?
Demand for solar is at an all-time high as both energy costs and government incentives for clean energy rise. When considering solar, it's important to ensure that the roof is well-suited for installing the panels.
Solar panels require a strong, long-lasting roofing material with excellent load-bearing capacity–and metal roofs fit the criteria perfectly.
Metal roofs have one of the longest lifespans of any roofing material, typically lasting between 40 to 70 years. Given that the typical lifespan of solar panels is between 25 to 30 years, it's critical to choose a roof that will last longer than the solar panels. If a roof needs to be replaced before the solar panels, homeowners are forced to deal with the costly and risky process of removing and reinstalling solar panels. This is a frequently encountered issue with asphalt shingles since they need to be replaced as often as every 12 years.
Metal roofs offer high tensile strength and excellent load-bearing capacity, crucial attributes given that a typical set of 20 solar panels adds approximately 800 pounds to your roof.
Metal roofing and solar panels pair extremely well together, for both functional and aesthetic reasons.
A black metal roof offers a cohesive, sleek appearance when combined with solar panels since the solar panels blend in with the black roofing material.
See the difference?
Speaking of looks, it's important to note that most black metal roofs you see are of the standing seam variety, characterized by raised seams and an industrial aesthetic.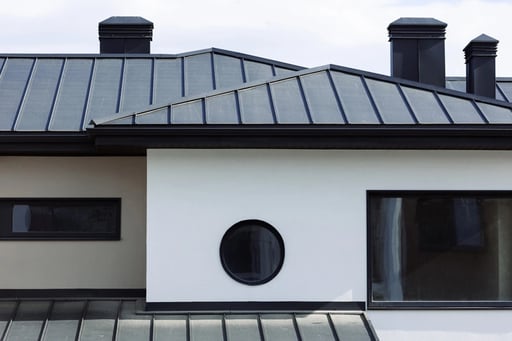 Many homeowners are surprised to learn that metal roofing doesn't have to look industrial. For instance, stone-coated metal roofing replicates the look of traditional roofing materials so well that most people don't even realize that they're looking at a metal roof.
What Will a Black Metal Roof Look Like on My Home?
Unlike standing seam metal roofing, stone-coated metal roofing is a type of metal roofing that offers a range of styles that provide industrial strength without industrial aesthetics.
Stone-coated metal roofing achieves the same look as traditional roofing materials, such as asphalt shingles, classic clay tiles, or wood shake. From colonial to craftsman architecture, the design versatility of stone-coated metal roofing makes it suitable for any style home.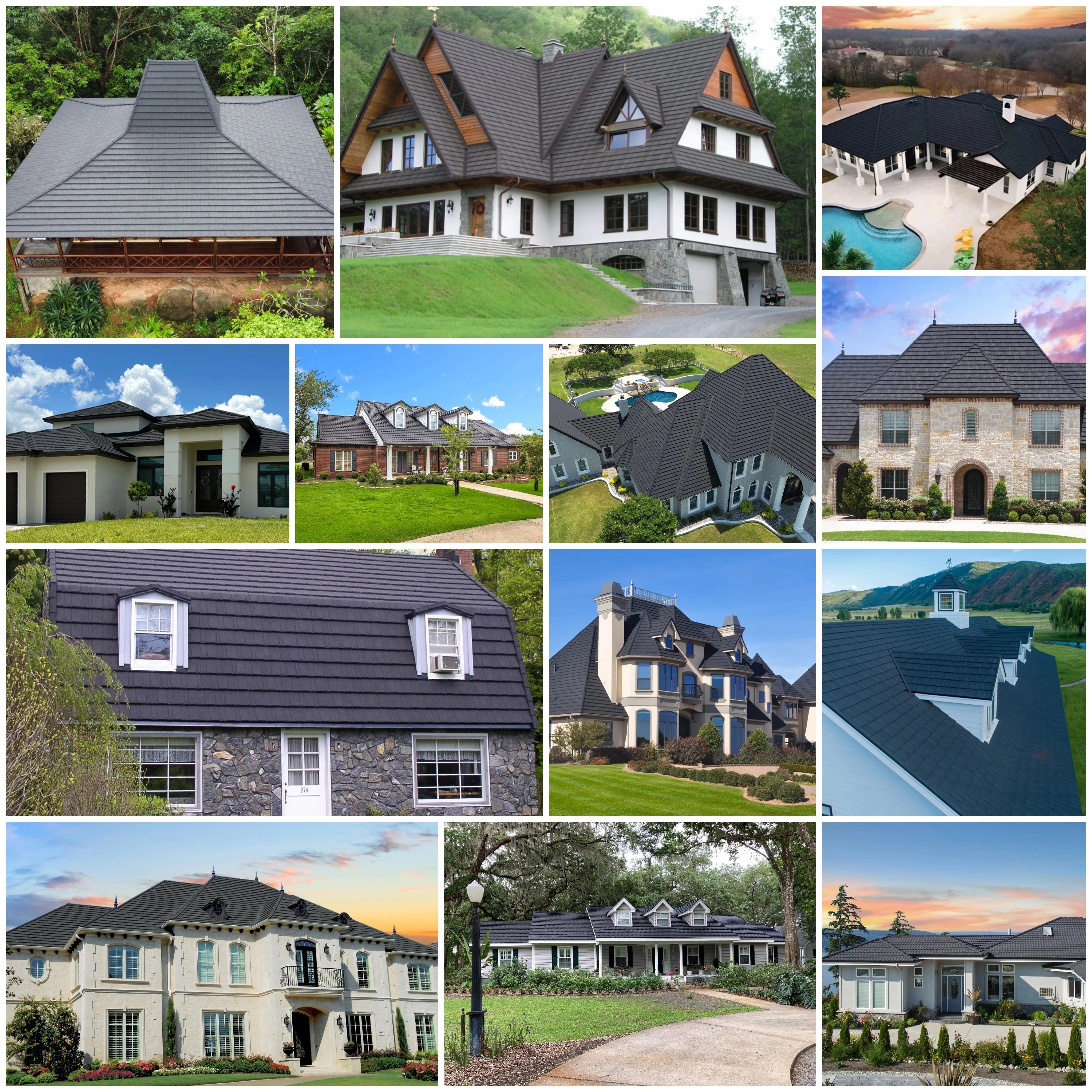 So, is a black metal roof right for your home?
Here are some final pieces of advice straight from the experts to help you decide.
"One of the best ways to see how a black metal roof will look on your home is to use a roof design or visualizer tool. These tools allow you to experiment with different roofing styles, colors, and textures to ensure that you find the perfect roof for your home." -Ken Sorenson, DECRA Metal Roofing Advisor

"Your roof has to fit the rest of the theme you have imagined for your property. That includes your siding color. You don't want to invest in a new roof and later find the color you chose clashes with the rest of the property." -Kyle Shirley, Owner of Sol Vista Roofing

"It's best to install a new roof BEFORE painting. Until you look carefully at the hues of your roof, you may not even realize that your roof contains so many different colors. Choosing one or two of those undertones to blend well with your exterior paint color is crucial to a cohesive exterior look and great curb appeal." -Paige NeJame, Owner of CertaPro
About DECRA Metal Roofing
Metal roofs are also well-known as one of the strongest roofing materials and are engineered to withstand nearly anything Mother Nature has to throw at it, including:
But don't worry, the industrial strength of metal roofing doesn't have to come with industrial aesthetics.
DECRA Metal Roofing's line of stone-coated metal roofing products has the design versatility to suit any home style.

From classic clay tile roofs to rustic cedar shake, DECRA stone-coated metal roofing provides the strength and style that today's homeowners demand.
Ready to see and feel the DECRA difference? Request a complimentary sample today.