Whether you're in your forever home or looking to sell, a DECRA metal roof is well worth the investment.
The demand for metal roofing has doubled in recent years, making it the second most popular material for residential properties. Much of its growth is attributed to the adoption of more resilient materials that deliver long-term value over short-term gain.
Let's look at some numbers. Bucketed by roofing material, here are national averages for the cost of a new roof: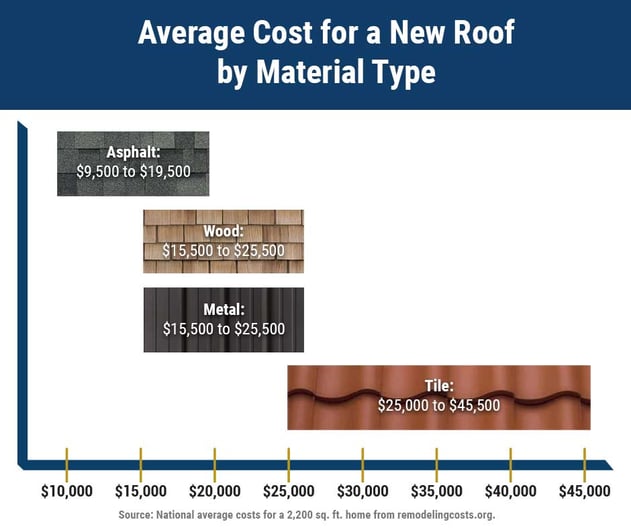 These averages have a fairly large window due to the long list of variables that can affect the cost of a roof, including:
Location: Labor costs vary across the county, and since these costs account for up to 70% of the cost, this variable can have a significant impact on the final price tag. The permits and licenses required for a new roof (and their costs) vary by region as well.
Contractor Pricing: Quotes can vary from contractor to contractor–even those in the same area–which is why it's important to get several bids for your project.
Re-roof vs. Roof Replacement: Re-roofing is when a layer of new roofing material is placed over the existing roof. A roof replacement is when the old roofing materials and underlayments are completely stripped from the roof, exposing the deck. Re-roofing is the fastest and most cost-effective way to upgrade your roof.
Home Type: Two-story homes, intricate architectural designs and other variables unique to the home can affect the overall cost. Additionally, if any structural elements of the property are damaged, they'll need to be repaired prior to installation of the new roof and additional costs may be added.
While the cost of a new roof can vary substantially from region to region, one thing remains constant when it comes to the cost of a new roof: a lower installation price doesn't always mean it's less expensive.
For example, traditional 3-tab asphalt shingle roofs are one of the cheapest roofing materials on the market–but you get what you pay for. With an average lifespan of only 12 to 20 years, the need for frequent roof replacements can make traditional asphalt roofs one of the most expensive roofing materials over time–especially when compared to metal roofing which lasts two to three times longer.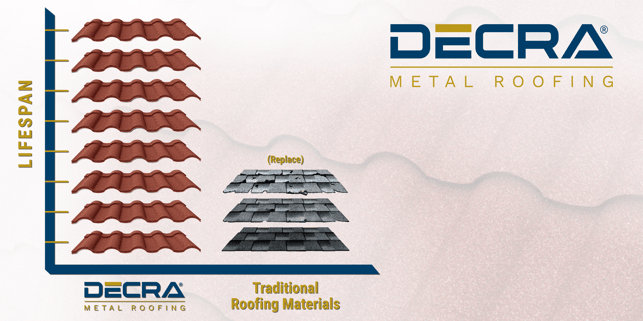 If you're thinking about investing in a DECRA roof, you'll want to take into consideration the many benefits.
Benefits of a DECRA Metal Roof
Eliminating the need to replace an asphalt roof every decade or so is just one of many reasons that make DECRA metal roofs well worth the investment. As mentioned above, DECRA metal roofs have a lifespan that lasts two to three times longer than traditional roofing materials–making for a great investment on that basis alone.
But there is an impressive list of other benefits that illustrate the value of a DECRA roof. A new metal roof can increase home value by up to 6% for several reasons:
In addition to increasing home value, metal roofing can come with other benefits, such as:
Insurance Discounts: Metal roofs can qualify for insurance discounts in many states. For example, in Texas, a metal roof can lower your homeowner's insurance by up to 35%. Make sure to check with your local insurance provider for available discounts.
Energy Savings: Metal roofs are one of the most energy-efficient roofing materials. A new metal roof can provide homeowners with energy savings as high as 25%. For maximum energy efficiency, advanced underlayments can increase energy efficiency by up to 217%, when compared to asphalt shingles.
Lifetime Limited Warranty: DECRA provides a Lifetime Limited Warranty for all products, so homeowners can rest assured knowing their new roof comes standard with one of the most comprehensive warranties in the industry. DECRA's warranty includes coverage for winds up to 120mph and hail penetration up to 2.5" in diameter. It is also one of the only roofing product warranties that can be transferred to new owners if the home is sold.
Speaking of wind and hail, let's examine how DECRA Metal Roofs perform against the elements.
Element-Resistant DECRA Metal Roofing
From Hawaii to Canada and everywhere in between, DECRA roofs protect homes from nearly anything Mother Nature has to offer, including:
Add the design versatility and beauty of a DECRA roof to the formula, and you can easily understand why DECRA roofs are well worth the money.
About DECRA Metal Roofing
DECRA roofs have withstood the test of time and have set the industry standard for quality ever since introducing the first stone-coated metal roofing product in 1957.
While most roofing manufacturers strive to satisfy just the minimum U.S. building code requirements, narrowly focused on wind and fire resistance, DECRA submits all products for independent, third-party lab testing above and beyond those requirements.
DECRA Metal Roofing products are made right here at our state-of-the-art facility in Corona, California and we have fully stocked warehouses in strategic locations throughout the country, making our materials available and ready to ship with some of the fastest lead times in the roofing industry.
Want to see and feel the difference DECRA makes for yourself? Order a complimentary sample today.