In 2012, the Algonquin Pod Company introduced an innovative and versatile lodging solution that revolutionized the cabin and lodging industries.
"We wanted to make camping more accessible and marketable," said owner Craig Kelley. "Our pods allow campsites and property owners to offer a unique and upscale lodging experience, as well as make use of land that was once considered unfit for construction."
Models range from the basic Mini-pod for outdoor adventurers seeking overnight shelter to the Mega Pod for glampers with room for amenities, like a kitchenette and shower.
Since no foundation is required, the prefabricated pods can be installed in locations where built-in-place cabins or lodges can't be.
However, the pod's unique design presented a challenge when it came to the roof. Algonquin Pod Company needed a roof that met these three requirements:
Roof Requirement #1: Meet Architectural and Structural Demands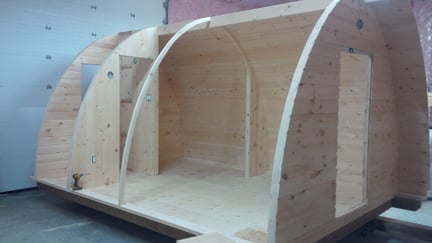 Pod construction is similar to traditional boat building. But unlike a boat's hull, pods have an arched roof that requires a strong but flexible roofing material.
"We needed a roofing product that would bend enough for the pod's design. We also needed a roofing product that could be installed on battens," said Kelley.
Fortunately, DECRA's stone-coated metal roofing products are particularly well-suited for cabins, lodges, and complex shapes.
Metal roofs made of steel are primarily composed of iron and carbon, which creates a natural balance of strength and flexibility. Plus, steel can be precisely cut and fitted to align seamlessly with the curvature of the pod's structure and maximize its load-bearing capability.
The flexibility and durability of steel are further enhanced with the addition of alloying elements like zinc, silicon, and aluminum.
Roof Requirement #2: Withstand Extreme Weather Conditions
Since the pods can be placed nearly anywhere, they require a roofing material that can endure Mother Nature.
When considering different types of roofing materials for the pods, Kelley noted that DECRA Metal Roofing products were at the top of his list because they were "tried, tested, and true." Kelley explained further that, "hundreds of pods in the UK are built with DECRA and we followed suit. In harsh climates, they have proved to be an excellent, long-term, and upscale roofing solution."
DECRA metal roofs are engineered to endure the elements and can withstand:
Hail: DECRA roofs have the highest possible UL2218 Class 4 impact rating and come with a Lifetime Limited Warranty for hail penetration up to 2.5 inches in diameter.
Fire: As a non-combustible material, metal roofs are ideal for cabins or lodges in regions prone to wildfires and have the highest Class A Fire rating.
Winds: DECRA metal roofs are so resistant to hurricane-force winds that they comply with building codes for high-velocity hurricane zones (HVHZs), such as Miami-Dade County, which has the strictest building codes for wind resistance in the nation.
The strength and durability of steel are tough to beat, which is why metal roofs have one of the longest lifespans of any roofing material.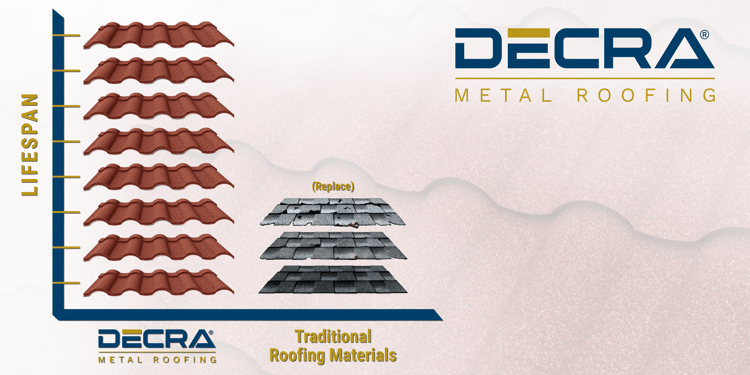 Roof Requirement #3: Maintain the Rustic Aesthetics and Ethos of Cabin Living
While traditional wood shake roofing would meet the rustic aesthetics required for the pods, the rich colors and beauty of wood shake roofing quickly fade to gray after exposure to the elements. In addition to being a highly combustible roofing material, wood shakes also lacked the durability and structural requirements that Algonquin Pod Company needed.
Stone-coated metal roofing, on the other hand, provided both the strength and style that Algonquin Pod Company was looking for.
Stone-coated metal roofing provides industrial-strength roofing without industrial aesthetics, thanks to natural stone granules that are adhered to steel sheets during the manufacturing process. The result? One of the most durable and longest-lasting roofing materials with the design versatility to suit any style.
DECRA Metal Roofing products also provided Algonquin Pod Company with the installation versatility they required for their pods.
DECRA Shake can be installed on battens, while DECRA Shake XD can be installed direct-to-deck. Both options provide the rustic look and rich colors of traditional wood shake without compromising on strength.
"DECRA' Shake fit the bill perfectly," said Kelley.

About DECRA Metal Roofing
As the original manufacturer of stone-coated metal roofing products, DECRA Metal Roofing has set the industry standard for strength and style since 1957. DECRA Metal Roofing ensures top quality by submitting our products to rigorous independent lab testing to meet or exceed industry standards. Manufactured at our state-of-the-art facility in California, our stone-coated metal roofing products have passed the toughest test of them all: time.
Ready to see and feel the DECRA difference? Order a complimentary sample today.

Editor's Note: This blog was originally published in September 2020, but has been updated with relevant information.