Metal roofing has dominated the industrial sector for well over a century. Warehouses, barns, factories and other industrial properties benefited from the longevity and durability that only metal roofing can provide.
But only in recent decades have words like "elegant" and "sophisticated" appeared in the same sentence as "metal roofing."
This is because industrial metal roofing–such as aluminum, standing seam and corrugated roofs–lacked the style and design versatility required for residential properties.
When stone-coated metal roofing was introduced in 1957, it bridged the gap between industrial durability and architectural beauty. Homeowners could now benefit from the industrial-strength performance of metal roofing without sacrificing on style.
Since stone-coated metal roofing made its debut, metal roofs have surged in popularity and are now the second most popular roofing material in the U.S.
Though homeowner demand for metal roofing increases each and every year, some HOAs still hold on to an outdated stigma that metal roofs are "too industrial" for their community.
If the CC&Rs of your HOA still have a blanket ban on metal roofs, it's almost always due to a lack of awareness about stone-coated metal roofing.
The good news is that it's fairly easy to persuade your HOA to approve a stone-coated metal roof.
The great news is that DECRA's customer service team has worked closely with both homeowners and HOAs for decades, and we have the resources you need to help your HOA understand that a stone-coated metal roof is a perfect fit for your home–and the community.
Here's what you need to know.
Why Some HOAs Prohibit Metal Roofs
The main reason some HOAs don't permit metal roofs is simply an issue of aesthetics and the desire to preserve the traditional architectural themes of the community.
Prior to learning about stone-coated metal roofing, most HOAs would rule out metal roofs due to their industrial appearance, reduced curb appeal and inability to meet the design standards of the community.
After all, an industrial metal roof in a traditional neighborhood of Victorian-style homes would stand out like a sore thumb.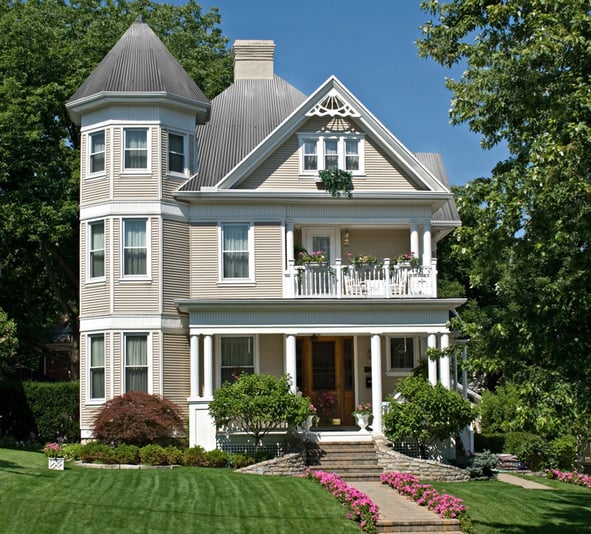 The same applies to the classic Mediterranean-themed communities, where the tile roof design is a critical component of the neighborhood's aesthetics. Naturally, substitution with an industrial metal roof is out of the question.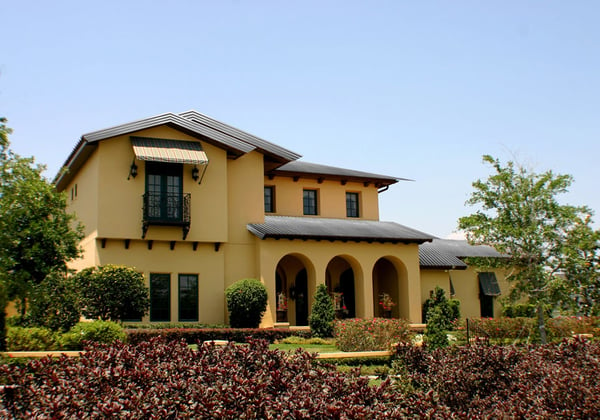 Fortunately, the more you educate the HOA on the many benefits of stone-coated metal roofing, the more likely they will be to accept your request.
In most cases, all it takes to convince your HOA to approve a stone-coated metal roof is to simply show the committee what a modern metal roof looks like. Here are three ways to receive approvals from your HOA:
Print out or share the link to DECRA's Residential Roof Gallery. This is an easy and effective way to showcase the craftsmanship, beauty and design versatility of DECRA Metal Roofing products.
Upload a picture of your condo or home to the DECRA Roof Designer app to show the HOA what roof design you have in mind.
Share this color chart with your HOA so they can see the different styles, textures and colors that stone-coated metal roofing can provide.
In addition to showing the design versatility and aesthetic capabilities of stone-coated metal roofing with your HOA, you may want to share the benefits of metal roofing as well.
To make the process extra easy, we've compiled all of these benefits in a ready-to-share PDF that you can send or share with the HOA.
Benefits of Metal Roofing
Metal roofs have a well-established reputation for durability and longevity, but they also have ROI-boosting features that benefit both the homeowner and the community.
Right off the bat, you'll want to let your HOA know that metal roofs in general can increase the resale value of a home by up to 6%.
Other benefits include:
Lifespan: Metal roofs are one of the longest-lasting roofs available and last two to three times longer than traditional roofing materials such as asphalt shingles, which need to be replaced as often as every 12 years.

Performance

: Known as one of the most durable and longest-lasting roofing materials on the market, metal roofing can withstand almost anything Mother Nature has to offer, including:
Insurance Discounts: Roofs are considered one of the most important parts of a building for insurance companies. In many states, insurance companies are now requiring that all roofs 20 years or older must pass rigorous roof inspections before homeowner policies can be renewed. On the other hand, modern metal roofs qualify for insurance discounts in most states (check with your insurance carrier to learn what rates are available in your area).
Low-Maintenance: Unlike traditional roofing materials such as asphalt shingles, metal roofs require little to no maintenance. Your home won't be constantly "under construction" as roofing crews and noisy power tools labor continuously to keep up with the maintenance demands.
Energy-Efficiency: Metal is one of the most energy-efficient roofing materials and is rated as the best roofing for solar power installations. Since metal roofs reflect heat up and away from the home, homeowners can save up to 25% on cooling costs.
Environmentally-Friendly: Metal roofs are 100% recyclable and a sustainable product. This is a huge benefit when compared to petroleum-based asphalt roofs which contribute more than 11 million tons of waste to landfills each year.

Lifetime Limited Warranty

:

A warranty shows the roofing manufacturer is confident in the quality of its product. DECRA roofs come standard with one of the industry's most comprehensive Lifetime Limited Warranties. The warranty can be transferred to the new owner during the first 20 years.
As mentioned earlier, here is a ready-to-share PDF that summarizes the design versatility, strength and other benefits of a DECRA metal roof.
Additionally, here are some recent blog posts that can help educate your HOA on stone-coated metal roofing:
HOA-Friendly DECRA Metal Roofing
DECRA's stone-coated metal roofing products enhance the curb appeal of any home and the aesthetics of any community. From a traditional thatched roof replacement at the Polynesian Cultural Center in Oahu, Hawaii to a Victorian-era mansion in need of protection from Wisconsin winters, the design versatility of DECRA Metal Roofing means you'll never have to choose between strength and style.
See and feel the DECRA difference by ordering a complimentary sample today.